Missing cat reunited with South Shields owner after hitching 10-mile lift in works van
A cat who disappeared after hitching a 10-mile lift in a works van has been reunited with his worried owner.
One-year-old Ginger became wedged behind a fuse box after climbing into the Northern Powergrid vehicle while the driver was carrying out repairs in South Shields.
With the Gateshead workman about to begin time off, it was not until three mornings later that he realised there was a strange smell in the back of the van.
He discovered Ginger, who had urinated in the vehicle, and called the RSPCA to free him.
As the cat was microchipped, he was soon reunited with his grateful owner.
RSPCA Inspector Terri-Ann Fannon said: "He was understandably shaken, hungry and a little dehydrated but otherwise fine.
"My colleague, animal rescue officer Dave Dawson, took Ginger back to South Shields, about 10 miles away from where the van had been parked, and returned him to his owner Daniel.
"It's nice to have a happy ending and it really does show how important microchipping your pets is.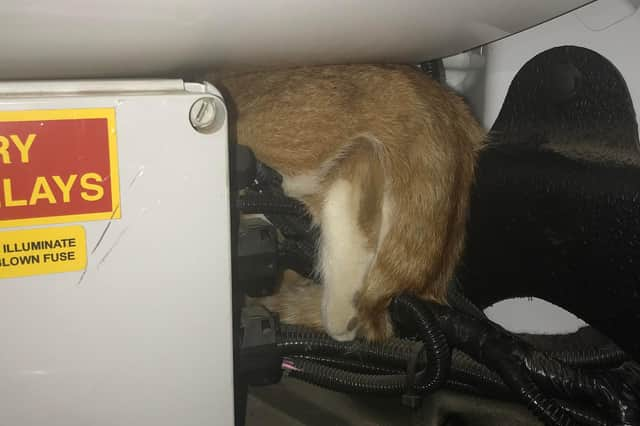 "Sadly for those animals without a chip, it is so hard to reunite them.
"We always put their details on the Pets Located website. But if they are chipped and the details are up to date we can reunite them so much quicker.
"While it is heartbreaking to lose a pet, if they are microchipped there is a small part of reassurance that should they be found they will make their way back home to you.
"But it is also worth reminding people that if you do chip your pet, please always update the details should you move. The RSPCA would encourage everyone to get their pets microchipped."
Ginger's owner, Daniel, who did not wish to disclose his surname, said: "He'd been missing for about 72 hours and I was really worried about him but then I found out he'd been stuck in the electric company's van ever since we'd had our electric fixed earlier in the week.
"He's fine now although he does seem a little bit traumatised. He's still a bit shaken up so I think it was a stressful experience for him."
Further details about microchipping are available from the RSPCA's website at www.rspca.org.uk.
Support your Gazette and become a subscriber today. Enjoy unlimited access to local news, the latest on SAFC and new puzzles every day. With a digital subscription, you can see fewer ads, enjoy faster load times, and get access to exclusive newsletters and content. Click here to subscribe.