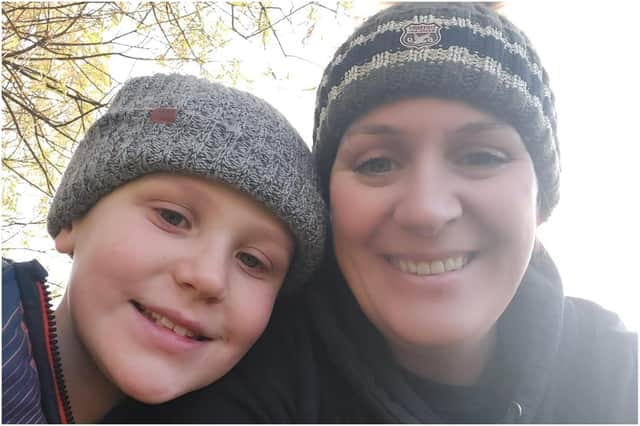 Shona Corner with son Riley Corner, nine.
South Shields mam, Shona Corner, is worried about the impact the lockdown may have on her son Riley Corner, nine, who has autism.
Diagnosed with autism aged five, Riley finds it difficult to cope with any changes to his routine.
So when the coronavirus pandemic hit the UK last year forcing schools to close during into lockdown, the switch to home learning instead of attending Keelman's Way School in Hebburn, came as a huge blow to Riley.
Shona Corner with son Riley Corner, nine.
Mum Shona, from Westoe, said: "Riley needs to know what is happening next and doesn't deal with change or unexpected change very well.
"Keelman's Way School has been fantastic for him, he has progressed really well, but when the lockdown hit homeschooling was an impossibility as he keeps his school life and home life separate.
"He would get very distressed as he didn't know or understand why we had to do things at home.
"Everyday I have to explain that we have to keep our distance and wash our hands."
Thankfully, when the second lockdown came into force last year, Riley was able to continue attending school – something mam Shona said has been paramount to Riley's happiness.
"Riley loves going to school in his safe bubble, he's coming home happy and content," Shona said.
"During the lockdown, when Riley was confined to just an hour's walk everyday, he had a few meltdowns that could last for hours.
"This way he is happy and getting everything he needs and I could concentrate on working from home."
Riley's autism means that requires total supervision and needs help with day-to-day tasks such as washing and dressing.
He also struggles socially and mam Shona has spent years introducing him to social environments.
But with Covid-19 dramatically changing the way we all live our lives, Shona is worried that the pandemic will prove to be a huge setback in her son's social development.
"Riley is an outdoor child, he needs that stimulation," she said.
"He went to the cinema, swimming, restaurants, [but] it has taken me years to introduce him to social environments and teach him how to act in public.
"I really worried about lockdown as he is already at a disadvantage due to his learning difficulties. He needs interaction and conversation, these are the areas we focus on.
"I get Riley out as much as I can, but until things start to open again I don't know the full impact on Riley.
"Will he want to go back to all of these places again? Or will I have a battle and have to start from scratch?"
Riley has also found it hard to adjust not seeing his grandparents, Patricia and Richard McDougall, each week.
But South Shields disability and additional needs support group, Kayaks, has been a huge help to both Riley and Shona during the pandemic.
The family joined the group four years ago and before the pandemic would attend the weekly meetings and organised trips.
This support is now online to comply with restrictions, but Shona says the group has continued to be a lifeline for families struggling under these difficult circumstances.
The group even helped her to complete a course on specific learning difficulties to help her homeschool Riley during lockdown.
"During the pandemic they have listed links for help and support as well as virtual fun activities and competitions," she said.
"They check in with people – I know I could contact any one of them for any reason and I'd get instant help, support and someone to talk to."
But Shona feels the Government should be doing more to help the families of children with special needs.
"There is definitely more support needed for families," she said.
"The school did everything they could, I just think there is a general lack of awareness or interest from the Government on how it can massively effect someone in Riley's position.
"I have tried my best to keep things as normal as I can during a very unsettled and unpredictable environment elsewhere."
Shona added: "My advice to other parents is take everyday as it is – find an activity you could do together and enjoy and to reach out to groups like Kayaks.
"Through them you will get support, friendship and advice. I would have been lost without them."
You can subscribe to this website and enjoy unlimited access to local news, information and puzzles online.
With a digital subscription, you can read more than 5 articles, see fewer ads, enjoy faster load times, and get access to exclusive newsletters and content.
Simply click 'Subscribe' in the menu.