Mum 'blown away' by support after raising £1million following huge personal challenge to help ensure people of all abilities can access leisure facilities - here's how you can help
A mum on a mission to ensure people of all abilities can access leisure facilities has now raised £1million for the cause – and is thrilled at the success of a huge personal challenge she undertook to help make her vision a reality.
Tuesday, 20th April 2021, 10:10 am
Updated
Tuesday, 20th April 2021, 10:28 am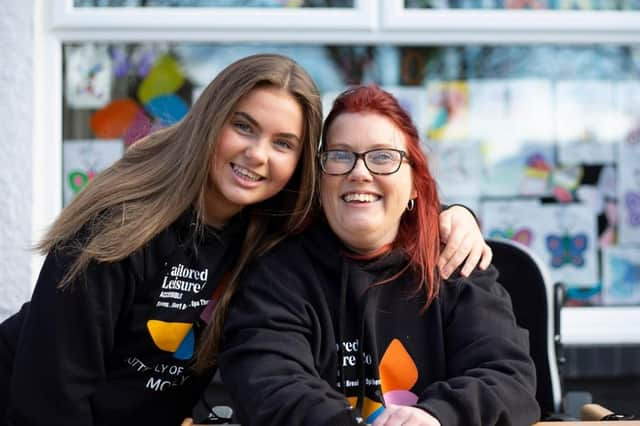 Tara Johnson (right) with daughter Molly. Pictured in the background are butterflies created by ArtVenturers, who got behind her campaign.
Tara Johnson, from Whitburn, faced what she calls her biggest challenge yet – to stand for the first time in over 20 years – to highlight her cause and raise funds.
The 39-year-old, who was born with cerebral palsy, pledged to stand from her wheelchair for 21 hours over five days in March, a sight that neither of her children had ever seen.
The driving force behind Tara's challenge was to tackle head on the lack of accessible leisure activities and short break facilities across the North East region.
Tara Johnson pictured in 2019 with her children Jack and Molly and her dog Butler from the Canine Partners charity.
The Tailored Leisure Company (TLC) social enterprise she founded needs £1.5million to create the first accessible leisure complex in the North East, the Butterfly of the North, which will include accessible chalets, a swimming pool, and social areas for carers.
Tara said the successful challenge has led to the social enterprise securing investment of nearly £1million, alongside community fundraising of nearly £45,000 through donations and JustGiving.
But the campaign still needs another £500,000, and she is calling for more businesses to get involved.
"We have been blown away by the support from across the region for our Stand for Access campaign," said Tara, whose supporters include singers Joe McElderry and Wor Vera.
"We are so close to reaching the target of £1.5million now and have identified the premises in the North East which will be ideal for the innovative, one-of-a- kind short break holiday and leisure complex, the 'Butterfly of the North'."
TLC is offering businesses a range of sponsorship opportunities which vary from brand presence at the new complex, across social media, at events through to naming rights at the complex.
The charity is looking for one Headline Sponsor (Platinum Butterfly) alongside Gold Butterflies: £10,000, Silver Butterflies: £5,000 and Bronze Butterflies: £1,000.
She said: "The new complex will support so many and unlock barriers to short breaks and leisure services that families across the North East face on a daily basis, and which is needed even more than ever post Covid-19."
Tara, who is mum to Molly, 14, and Jack, 11, launched her social enterprise after her own experiences of living with cerebral palsy, and her professional experience in the health and social care sector.
"Over the years, especially as a family, doing the simple things can sometimes take a lot of planning before you even get anywhere," she said.
"And sometimes, let's be honest, even with all the planning in the world, sometimes things still aren't as accessible as you need and you get that sinking feeling when you can't participate in certain things. I wanted to change that."
She said her team are committed to developing accessible opportunities to get fit, have fun and relax with as little stress as possible and are passionate about overcoming the barriers and social exclusion faced by disabled people.
Tara said she had been particularly touched by the £45,000 in donations from the community.
"The support received from the local community has been amazing and we would urge people to continue to donate as we reach our final milestone," she said.
Tara said TLC has built trust within the community and partners including Headway Wearside, with a proven track record and mission to unlock leisure accessibility for people with physical disabilities based on their regional research.
TLC recently secured funding for Sit to be Fit sessions which have attracted the attention of national funders, including the Community Lottery Fund, UnLtd 'Do It' Fund, Groundworks and Comic Relief.
Kim Hunter, business and community development officer at Headway Wearside, said: "It is essential for acquired brain injury survivors to connect and have time out with family, friends and carers in an accessible leisure and holiday complex. Just like everyone else holidays and weekends away are fun, exciting and challenging but sometimes a little more support and thought is needed.
"To have a complex in the local area such as 'Butterfly of the North' that members of Headway Wearside could access will be fantastic. Having access to everything on site such as accessible chalets, swimming pool, and social areas and a separate space for carers is long overdue."
Business interested in sponsorship opportunities can contact TLC on 07861247658 or email [email protected]