£20,000 boost for South Shields community project
Playtime for youngsters has become a lot more fun – thanks to a lottery grant.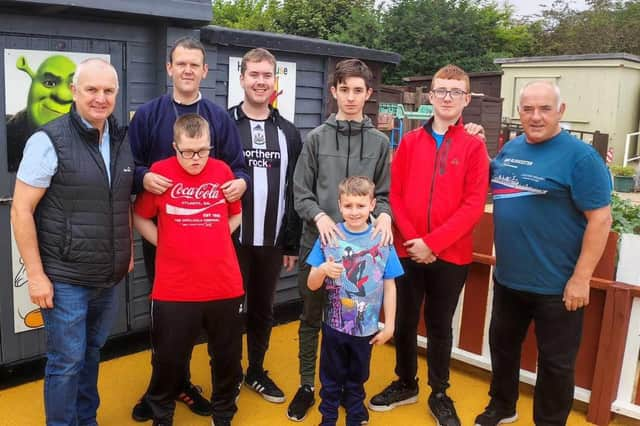 The Holder House Allotment project – in Whiteleas, South Shields - now has an indoor sensory area and outdoor play area for its young visitors after the site was awarded over £20,000 from the People's Postcode Lottery.
Holder House provides adults with learning difficulties and disabilities the chance to learn about horticulture and woodwork and learn new skills and gain qualifications.
It has also expanded to provide a meeting place for young people with learning difficulties and disabilities.
The cash has allowed the play areas to be revamped with the help of volunteers.
The indoor sensory area has been placed within a cabin which has been named Malcolm's cabin, in memory of service user Malcolm Ross who passed away earlier this year.
Project manager Chris Convery said: "Some of our young people who attend the project have sensory issues, so being able to provide a dedicated place for them to play is a great addition to the project, which has been made possible thanks to the Postcode Lottery.
"We're always looking at ways to improve the site for our service users to help improve their overall health and wellbeing."
Part of the funding will also go towards helping to fund room hire costs, project workers, sensory room equipment, refreshments, and advertising.
Plans are also in place to add more sensory equipment to the gym area as well as create an outdoor space for exercising.
Long-term Holder House supporter, Cllr Ernest Gibson, said: "What Chris has done with Holder House Allotment Project has been amazing.
"Over the years, he has turned an empty allotment plot into a place where people of all ages with learning difficulties and disabilities can come, feel safe, have fun and learn new skills.
"This latest addition just goes to show the dedication Chris has towards those who access the site to continue to improve the area for all."
The Holder House project also has a second base at Lukes Lane Community Centre.
*For more information on the Holder House Allotment Project, visit www.holderhouse.co.uk