Report criticises power firms' response to Storm Arwen
Storm Arwen "brought unacceptably long power cuts to some households", a Government report has said.
Published 21st Feb 2022, 11:50 BST

- 3 min read
Updated 22nd Feb 2022, 14:49 BST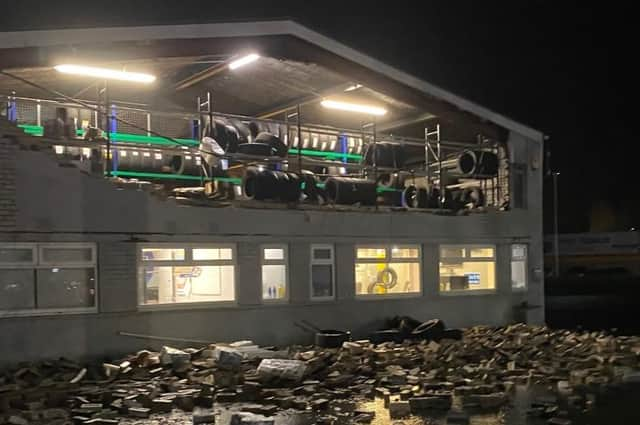 The devastating consequences of the late November storm included thousands of people in Northumberland being without power, heat and water for days. Properties were also damaged and trees felled.
Berwick MP Anne-Marie Trevelyan said: "Many of the (report's) initial conclusions echo the contents of my submission, as do some of the suggested remedies.
"It is clear that information was a major barrier – both in ensuring customers could appreciate the scale of the damage and timescale for reconnection, and in hindering the administration of an effective compensation scheme.
"I was especially pleased to learn that the Department for Culture, Media and Sport have heeded my concerns and together with Ofcom and the telecoms providers, will be reviewing the impact on landline and mobile services in periods of power outages.
"I will be seeking to feed in to that review as I have done for the reviews into the power companies.
"It is especially important that our most rural communities are protected from the impacts of future storms and ensuring they can communicate and get help if they need it is key to that."
Georgina Hill, Northumberland county councillor for Berwick East, said: "The review seems to be confirming what we all felt – that the energy companies' response, communications and aftercare was wholly inadequate.
"I think it's important, though, not to use this as just a 'stick to beat them with' or to forget all their employees who were working round the clock, in difficult and treacherous conditions, trying to restore power.
"The key is that lessons are learned and that the mistakes are never repeated."
The report said that in total, nearly 6,500 faults were recorded by the network operators, predominately to overhead line circuits.
Criticisms of the power companies in the report include the following: "Storm Arwen brought unacceptably long power cuts to some households, especially those in rural areas.
"Wait times for some customers to contact their network operator were unacceptably high."
"Some customers were not aware of their compensation entitlement and method of claiming. Network operators should review their communications strategies to ensure this information is pro-actively provided in a timely manner during disruption events."
However, the report noted the firms' efforts to help vulnerable people, including provision of hot meals to those without power.
Energy regulator Ofgem is also carrying out a review in relation to Storm Arwen and both organisations are set to publish their final reports on March 31.
Meanwhile, referring to more recent storms as well, the Government has been criticised by Northumberland Labour.
Leader Scott Dickinson said: "We saw a woefully inadequate response with Storm Arwen, with people left without power for well over a week and national emergency having to be called before any serious action was taken.
"And with the latest storms (Dudley and Eunice) which affected most parts of the country, it's clear that the Government is just not planning thoroughly enough for these increasingly common events."