Sir Bobby Robson's son remembers Italia 90 as England prepare to take on Germany in Euro 2020
The son of Sir Bobby Robson has been reflecting on memories of his dad's experiences a Italia 90, as England once more prepare to take on Germany.
Monday, 28th June 2021, 2:09 pm - 3 min read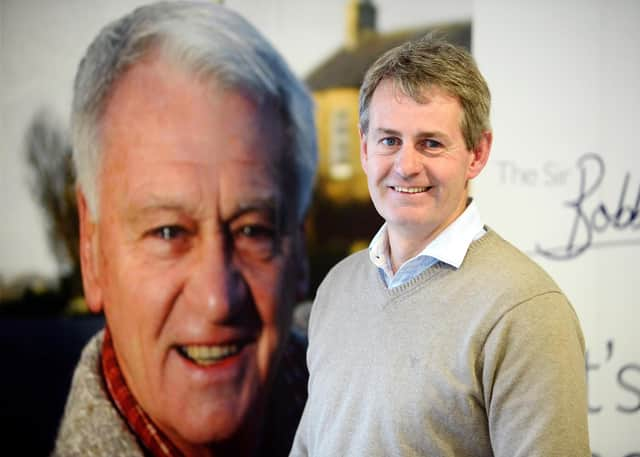 Mark Robson today
The England team's campaign in the World Cup in Italy in 1990 was one of the Lions' most successful tournaments in recent decades, but ended in disappointment as England lost to West Germany in a penalty shoot out.
As England and Germany prepare to face each other again in the knock-out stages of Euro 2020 on June 29, Mark Robson, has been reflecting on that night, 31 years ago in Turin.
"Like every England fan, I can't wait for kick off but I'm also a pretty nervous, too," he said.
Sir Bobby with his mother and father, Lillian and Philip Robson.
"England against Germany always has the potential for excitement but not necessarily a win for us.
"I know Dad would be absolutely riveted to the Euros and, as a proud Englishman, he'd be backing England to go all the way. Gareth's done a magnificent job and I think Dad would be very impressed at the way he's handling himself in what is a very difficult role.
"Obviously, thinking about England versus Germany brings back a lot of memories for fans.
"I was at Italia 90 but thinking back to the Stadio delle Alpi and that night in Turin, my strongest memories now are of family, not football.
Lillian and Philip Robson at their home in Langley Park.
"I wish we had some family photographs of the night.
"My most vivid memories now are of my Grandad, who meant the world to Dad. He was a miner from County Durham, like my Dad was to begin with.
"Dad was so proud of Grandad's work ethic and there's no doubt it influenced him greatly.
"Granddad worked down the mines for 52 years and only had two days off sick in all that time.
Cagliari Marina, Sardinia – (front) Tom Robson, John Robson, Mark Robson (back) David Dein, Clive Brown, Glen Kirton, Sir Bobby.
"Grandad was 87 when he died. And that was just a year or two after Italia 90.
"He was so proud of Dad.
"I know he was proud of all five of his sons, but it was quite something watching Grandad trying to keep it together when he was watching his son as the England manager at a World Cup semi-final.
"Grandad never missed an England game at Wembley but he never stayed overnight in London. He'd always get the train home, no matter how late it was.
Terry Butcher and Paul Gascoigne leaving the 'England' hotel in Sardinia.
"He'd get the milk train back to Newcastle and wouldn't get to Langley Park until the early hours. We always thought that was because he wanted to get back home for our Grandma. So, for him to go all the way to Italy, was a very big deal.
"I vividly remember him on the plane and travelling by coach to the ground and inside the stadium in Turin. He barely spoke. He was just wide-eyed and silent. He was so proud and emotional.
"He'd only been out of the country once before, and that was for Dad's first match as England manager in Denmark in 1982, and here he was, transported from Langley Park into the heat of Turin and the tension of a World Cup semi-final. And his son was centre stage.
"It's staggering really. It was an overwhelming game for England's supporters, so imagine what it must have been like for my Grandad. I don't know how he took it all in.
"I have a very strong memory of the bus ride after the game up into the hills to a restaurant for refreshments, but is was at least midnight by then. It was so sombre, as you'd expect. It was difficult to know what to say. We were all in a bit of a shock I suppose.
"But Dad was like Grandad. That work ethic of his kept him going after the crushing disappointment of Turin and he did what he always did. It prepared for the next challenge and the next match."
On the beach in Sardinia - Paul Gascoigne, Mark Robson, Terry Butcher.
In 2008, when he was facing cancer for the fifth and what he knew to be the final time, Sir Bobby launched a cancer charity to find more effective ways to detect and treat the disease.
A fund within the Newcastle Hospitals Charity, the Sir Bobby Robson Foundation works within the NHS and in partnership with other leading charities and organisations and has gone on to raise over £15million.
Sir Bobby described it as his, "last and greatest team."
Sir Bobby pictured in 2009 with an England Italia 90 shirt.