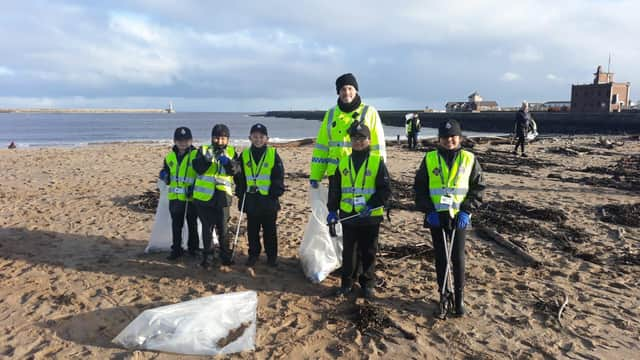 PCSO Steve Lorrison with Mini Police volunteers on the beach in South Shields.
Passionate environmentalist PCSO Steve Lorrison has set up a beach-cleaning group in his spare time which he hopes can protect and enhance the area for future generations.
The idea received plenty of support locally with dozens of people turning out for the first of what he hopes if the first of many planned events.
PCSO Lorrison was joined by Mini Police volunteers from Hadrian Primary School, Laygate Community School, Marine Park Primary School and residents for the first clean-up.
Mini Police volunteers from Hadrian Primary School with their Commander's Compliments.
Now the young volunteers have been given a Commander's Compliment by Chief Superintendent Sarah Pitt, force lead for volunteers at Northumbria Police, as a gesture of thanks.
"This was a great initiative devised by one our CSOs in his spare time and it was fantastic to see our Mini Police show their support and get involved," Chief Supt Pitt said.
"We are incredibly fortunate to live in a wonderful part of the country with some of the UK's best beaches on our doorstep – and this was a great example of the community coming together for a common cause.
"I especially want to thank our brilliant Mini Police volunteers, who once again showed what an fantastic role they play in supporting the Force and delivering important messages to their classmates."
The inaugural clean-up saw volunteers, many who are Mini Police volunteers under supervision from their teachers, pick up 21 bags of litter and plastic from Littlehaven Beach.
The bags were then taken to the South Tyneside Recycling Village.