'Looking tough in Hartlepool by-election' - Labour and Tories play down expectations in key North East battleground
Both Labour and the Conservatives have played down expectations in a key North East battleground.
Thursday, 6th May 2021, 11:20 pm
Updated
Thursday, 6th May 2021, 11:36 pm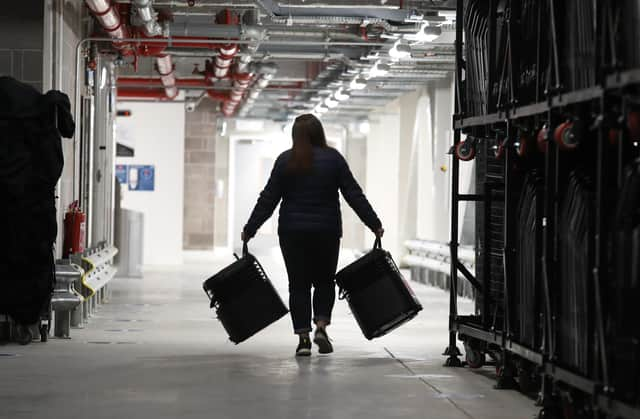 Votes being counted at Mill House Leisure Centre in Hartlepool, for the Hartlepool parliamentary by-election. Picture date: Friday May 7, 2021.
As well as council elections taking place across the North East, a by-election is taking place in Hartlepool after the resignation of its MP.
The seat has always been held by Labour but the Conservatives are hoping to add the Teesside constituency to their list of North East scalps following a collapse of Labour's 'Red Wall' in the last General Election.
Just minutes before polls closed in Hartlepool and the other contests, Labour acknowledged the elections would be "tough".
In a sign that Sir Keir Starmer's party is braced for a difficult set of results, a Labour source said: "These were always going to be tough elections for Labour.
"Keir has always been honest about the mountain we must climb to rebuild trust to win the next general election.
"Labour is listening and we will continue to change in order to win back the trust of working people in Britain and their communities."
The Conservatives also sought to play down expectations as polls closed.
A Tory source said it was "looking tough in Hartlepool" as "Labour have flooded the area with activists".
Conservative staff had been encouraged to use spare time on Thursday evening to make calls for the candidate Jill Mortimer.
The source said there was a "mixed picture in elections across the country" and suggested Labour had "done really well on their expectation management".
Housing Secretary Robert Jenrick said it would be "remarkable" if the Conservatives have won the Hartlepool by-election.
The Cabinet minister told Sky News: "It is exceptionally rare for governments to win by-elections off the opposition – it is even rare for governments to hold their own seats in by-elections.
"So the idea that the Conservatives after 11 years in power would be able to win a seat that has been held by the Labour Party for 40 or 50 years is remarkable.
"It is going to be very tough, we will have to see what happens later in the evening.
"But if it is even close, I would say that is a really serious indictment of Keir Starmer."