Plans approved for new showroom at Barbour in latest changes at South Tyneside firm
Plans for a new storage showroom at the home of historic South Tyneside business Barbour have been given the green light by borough councillors.
Published 15th Feb 2023, 14:54 BST

- 2 min read
Updated 15th Feb 2023, 14:57 BST
South Tyneside Council's planning department received a planning application in 2022 for Barbour House at Bedesway in the Jarrow area.
Barbour, which was originally founded in 1894, is well-known for its signature waxed jackets which it has been making for more than 125 years.
In recent years, the business has brought forward plans to improve operations at its Bede Industrial Estate base, including a new warehouse facility.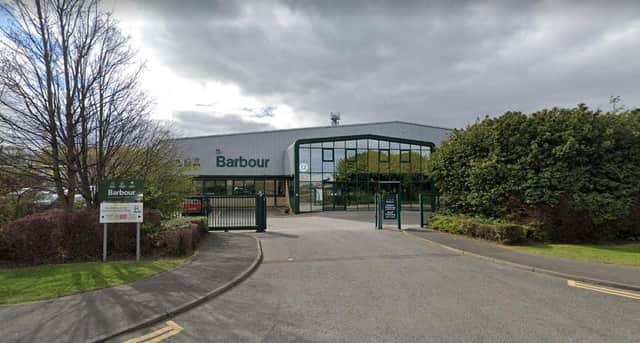 New plans submitted to council development chiefs sought permission for a huge new showroom and alterations to Barbour House, the administrative headquarters of the company.
This included the conversion of the existing showroom to office space and a new showroom building connected to Barbour House by a "linking block".
Following council consultation, the plans were presented to South Tyneside Council's Planning Committee for decision on February 13, 2023.
Councillors were told that the showroom would be used for marketing Barbour products to corporate buyers, rather than for the sale of goods to the general public.
Although a parking area would be lost to make way for the new showroom building, council officials confirmed parking would still be available on an adjacent company site.
After being put to the vote, the planning application won unanimous support from borough councillors.
Councillor Paul Dean described the plans as "absolutely great news for our area".
Cllr Dean added: "This is a firm that is not just nationally well-known, it's world-renowned.
"I think this can be nothing but good news for our borough that a firm as well-known as Barbour is committing itself to our borough".
A committee report prepared by council officers recommended the plan for approval and said it would "allow a significant and long-established major employer in the borough to further extend and consolidate their business operations".
However a planning condition was added to limit the showroom site to "marketing of merchandise to corporate buyers".
The committee report added the condition would "prohibit use of the building for retail sales to the general public given the site's out-of-centre location and the potential impact of such [a] use on the vitality and viability of nearby town centres".
A design and access statement previously submitted to local authority officials stated no "immediate increase in employees" was linked to the Barbour showroom proposals.
However the supporting statement confirmed the development "offers potential for growth in the future".
For more information on the planning application, visit South Tyneside Council's online planning portal and search reference: ST/1014/22/FUL