£8million green revolution for South Tyneside as cash funds cutting-edge energy project and dozens more schemes
An £8million green revolution is on its way to South Tyneside, with a huge grant announced to fund dozens of projects helping to make the borough carbon neutral by 2030.
Friday, 19th February 2021, 6:00 am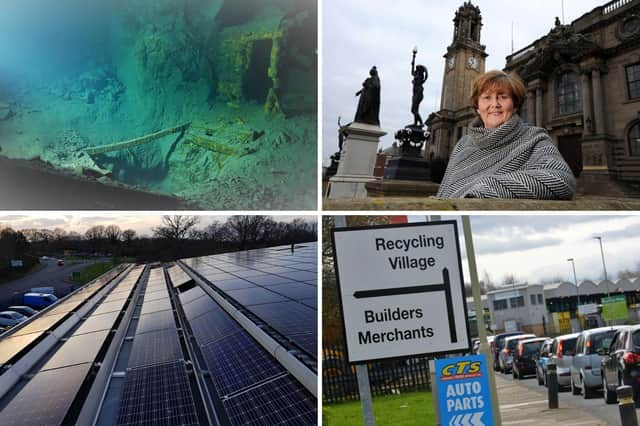 South Tyneside is set for a green revolution after the council landed £8million to fund 26 carbon-busting projects across the borough.
A total of 26 schemes ranging from a cutting-edge energy project to solar panels and LED lighting for schools, leisure facilities and civic buildings will be funded from an £8million grant from Government.
This will be similar to schemes already being developed in Jarrow and Hebburn – which will harness the River Tyne and water from flooded mines respectively to heat council buildings.
South Tyneside Council leader Cllr Tracey Dixon said the 26 projects would cut a "substantial amount" of emissions each year, contributing to the council's aim of being carbon neutral by 2030.
"This is fantastic news and testament to the great work we are doing to meet our target of becoming carbon neutral by 2030. We are resolute in our ambitions to become carbon neutral and are using every opportunity available to us," she said.
"It is only 12 months since we launched the Sustainable South Tyneside Strategy and we've already made great strides in reducing the council's overall carbon footprint.
"We want to build on that progress to meet the ambitious targets we've set ourselves and the award of this funding will make a significant difference."
Cllr Dixon said Work will commence immediately, and the majority of projects will be delivered by Summer 2021.
The Department for Business, Energy and Industrial Strategy (BEIS) launched the Public Sector Decarbonisation Scheme, which is for energy efficiency and heat decarbonisation projects within public sector non-domestic buildings.
Council chiefs say the projects in South Tyneside were chosen after detailed analysis of carbon emissions data to determine which council operations were responsible for the largest carbon emissions.
Emissions from civic buildings, leisure facilities and street lighting account for 71% of the council's total carbon footprint, and these have therefore been chosen as priorities by the council.
Cllr Dixon said the £8million will help tackle civic buildings and leisure facilities further, and covers 100% of the costs with no match funding needed from the council.
South Tyneside Council said its commitment toward climate change "is strong and focused; implementing strategies that bring about real change, significantly reducing the amount of carbon being emitted whilst increasing its renewable capabilities moving to a cleaner, greener resource for energy supplies".
The full list of projects are:
:: A Holborn minewater project, with funding covering the installation of boreholes to abstract minewater for a future energy centre
:: LED lighting at the Early Excellence Centre in Hebburn, the Horsley Hill Campus, Forest View and Harton Primary Schools in South Shields, and at the Hawthorne, Strathmore and Whitney Way council buildings.
:: Solar thermal hot water at Middlefields and Whiteleas Children Centre
:: Solar PV installations to generate electricity at Harton Primary, Forest View Primary and Bamburgh School, as well as the Foxdens centre, the Jarrow Business Centre and Jarrow Pool
:: Jarrow Pool will also benefit from two more projects – a heat pump and roof repairs and insulation
:: Heat pumps will also be installed at Harton and Forest View Primary Schools, in addition to them benefiting from the other projects above, as will Marsden Primary School
:: Middlefields will get a battery storage system to compliment a proposed wind turbine at the site, which will store energy when not used by surrounding buildings
:: Primrose Children Centre will get an upgraded heating system, as well as the solar PV installations.
Support your Mail and become a subscriber today. Enjoy unlimited access to local news, the latest on Pools and new puzzles every day. With a digital subscription, you can see fewer ads, enjoy faster load times, and get access to exclusive newsletters and content. Click here to subscribe.