Rail Minister plays down 'unfounded' fears over transport funding for North East
A Government Minister has said that fears among North East chiefs that the region could miss out on key rail projects are 'unfounded'.
Saturday, 23rd January 2021, 6:00 am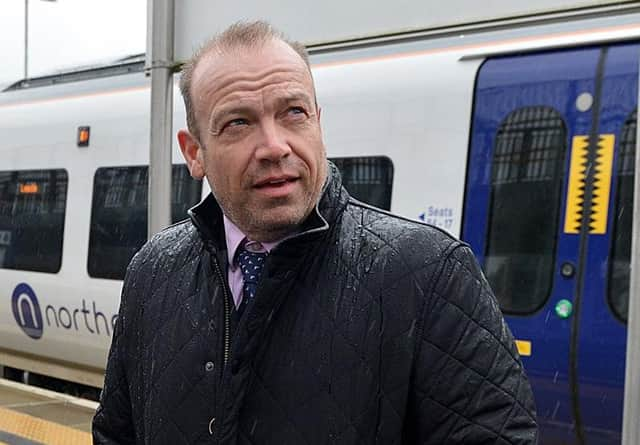 Rail Minister Chris Heaton-Harris
An update to the committee noted the National Infrastructure Commission (NIC) published its final report into the rail needs for the north and Midlands in December 2020.
The committee report states: 'While the options include proposals for East Coast Main Line investment, the report does not go into any detail.
'More detail is being sought from the NIC regarding specific proposals for the line north of York, but it appears that the NIC has been given instructions to work within a fiscal envelope that makes it impossible for HS2's Eastern Leg, Northern Powerhouse Rail, and appropriate upgrades to the conventional rail network to all be delivered.'
A further blow was struck this month when plans to significantly reduce next year's budget for Transport for the North (TfN) – the region's statutory transport body – were unveiled.
"The bit that really shocked me was the justification for this cut and where this money is being diverted to.
"It is emerging, and it's very clear from the Department for Transport (DfT), that this money is going to subsidise significant shortfalls and huge overspends in the first leg of HS2, better connecting London and the South East."
Cllr Martin Gannon, JTC chairman as well as leader of Gateshead Council, told the meeting: "This is a red line for me. Either the Government cares about the North East or they don't. I want to know, do they care about the North East or not?"
He added: "I don't think there's a single person in the North East who doesn't agree with the rationale, impact and cost-effectiveness of upgrading the East Coast Main Line. I'm not sure what else we can do."
But speaking to the Local Democracy Reporting Service on Friday, January 22, Rail Minister Chris Heaton-Harris said: "I think I can demonstrate without too much effort that those fears are unfounded.
"We're just about to spend £594million on the Transpennine upgrade, we've stuck tens of millions, hundreds of millions into Nexus to make sure the Metro system can grow and develop further, we're investing heavily – £48billion – in upgrading our rail network across the piece, and you've got digital signalling coming onto the East Coast Main Line – admittedly starting in the south, but this is the first huge amount of digital signalling we're investing in.
"To cap it all off, there is an Integrated Rail Plan (IRP), which will be published in the not-too-distant future, which will demonstrate how all these things work together and that should give everyone the comfort they need about the future plan.
"Rail funding works on a portfolio basis and some projects occasionally fall behind and some, like the Northumberland Line, move really quickly. My job is to make sure it's balanced correctly.
"The Prime Minister left me in no uncertain terms that we are levelling up and we are going to deliver on our promises."
You can subscribe to this website and enjoy unlimited access to local news, information and puzzles online. With a digital subscription, you can read more than five articles, see fewer ads, enjoy faster load times, and get access to exclusive newsletters and content. Simply click 'Subscribe' in the menu.