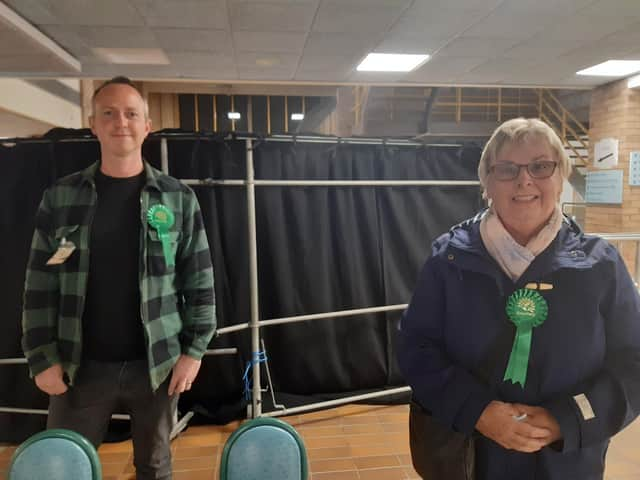 Sue Stonehouse joins David Francis in representing Beacon and Bents, where the party now have two out of three council seats.
In 2019, Councillor David Francis made history after being elected as the local authority's first Green with a huge majority over Labour in Beacon and Bents.
At the most recent round of local elections on May 6 2021, the party emerged as the biggest opposition winners on the night, taking two seats from Labour and tripling their numbers on South Tyneside Council.
Green councillors Sue Stonehouse and Peter Bristow were elected to the Beacon and Bents and West Park wards respectively, with Labour also losing seats to a Conservative and an independent.
Green Party councillor Peter Bristow
Cllr Francis said the results felt like a "win and endorsement from the public" and were based on local issues and candidates working throughout the year, rather than "just at election time."
He also noted that the Green Party had performed "exceptionally well" in local elections at a national level for the same reasons.
Cllr Francis added an official Green group in South Tyneside would have several benefits – from providing "more of a presence and visibility" on the local authority to allowing "greater engagement with the community."
He went on to say: "We would have more councillors to challenge and continue to ask questions, in whose interests decisions are taken and who the decisions serve.
Councillor David Francis with Green Party members and others at a climate change demo outside South Shields town hall in July 2019, before the pandemic.
"Quite often, it's not the public but what is politically convenient for the ruling group.
"If Labour don't start to appreciate that, it's possible they might lose more than four seats next year.
"Even if they don't necessarily take heed of that when people tell them it, when it is reflected in the ballot box they might realise they need to start listening to the residents and doing what is best for our communities rather than what is politically helpful for them."
Looking forward, Cllr Francis hopes that the priorities of the South Tyneside Green Party will be "shaped by residents."
Green Party councillor Sue Stonehouse
While building on the climate emergency declaration in 2019, pushing for eco-friendly pension fund investments and phasing out harmful pesticides would be expected, Greens also hope to shape the conversation on "challenging building projects."
In South Shields, the opposition group say they will present alternatives to help regenerate the town centre, from developing more accommodation and schemes to boost footfall, to promoting initatives to help attract and retain businesses.
Councillor Sue Stonehouse, the second councillor to be elected to the Beacon and Bents ward since 2019, said she was "humbled" by the support she had received.
Her priorities going forward include a focus on mental health, housing, "bringing some life back into the town centre" and "working in collaboration."
Green Party councillor David Francis
"With three greens on the council we provide an alternative to bricks and mortar, we provide an awareness of the health and future of residents," she explained.
On his election to the West Park ward last week, Peter Bristow also said that South Tyneside Council has been in "dire need of fresh voices and new perspectives".
He added: "My priority is to show the residents that placed their trust in us that their support is not misplaced."
The new Green Party group will meet next week at the council's annual meeting, which will see all 54 councillors gather at Temple Park Leisure Centre.
Ahead of the meeting, Cllr David Francis set out "priority number one" for residents for the coming year.
"It's about proving to residents that they made a good choice at the ballot box and the way we do that is by proving we're here to serve them rather than a wider political agenda," he said.
"That doesn't mean we're not trying to look at environmental and social justice issues, it just means we're not trying to impose these things on people.
"We want to continue to work in partnership with the residents because that's how it's meant to work.
"We're supposed to be elected to serve the residents, to be the voice of the people to the council, not the voice of the council to the people."
It was a good set of elections for The Green Party of England and Wales across the country, with members winning more than 80 council seats across England.
Successes included becoming the joint biggest party on Bristol City Council.
Closer to home, the Green Party took its first seats on Northumberland County Council
Sian Berry, the party's co-leader and candidate for Mayor of London, came third in the elections there, claiming almost 200,000 first-preference votes, double her party's total in 2012, and the Greens fared well in other mayoral elections around the country too.
Over the border, their Caledonian counterparts The Scottish Greens are seen as pivotal in forming a pro-independence majority with the SNP in the Scottish Parliament.
Some pundits have predicted the Greens will overtake the Liberal Democrats to become England's third-biggest political party.
However, the Liberal Democrats were also making gains in England in the elections on May 6.
:: South Tyneside Council's annual meeting will take place on Tuesday, May 18 from 6pm.
Due to social distancing measures, spaces for public attendance are strictly limited to 60.
Everyone who attends this meeting of borough council will be required to wear a face covering, unless exempt.
Support your Gazette and become a subscriber today. Enjoy unlimited access to local news, the latest football stories and new puzzles every day. With a digital subscription, you can see fewer ads, enjoy faster load times, and get access to exclusive newsletters and content. Click here to subscribe.