LIVE: Reaction to Chancellor Rishi Sunak's Budget as Teesside emerges as Teesside wins freeport status
Rishi Sunak outlined support "to get people through to the other side of the crisis" – with the furlough scheme and other financial lifelines extended as part of his budget.
Published 3rd Mar 2021, 14:44 BST
The Chancellor told ministers the impact of coronavirus on the national finances cannot be ignored, but the UK can be "optimistic about our recovery", as he updated the Cabinet ahead of this afternoon's statement.
Scroll down for live updates.
You can subscribe to this website and enjoy unlimited access to local news, information and puzzles online. With a digital subscription, you can read more than 5 articles, see fewer ads, enjoy faster load times, and get access to exclusive newsletters and content. SImply click 'Subscribe' in the menu.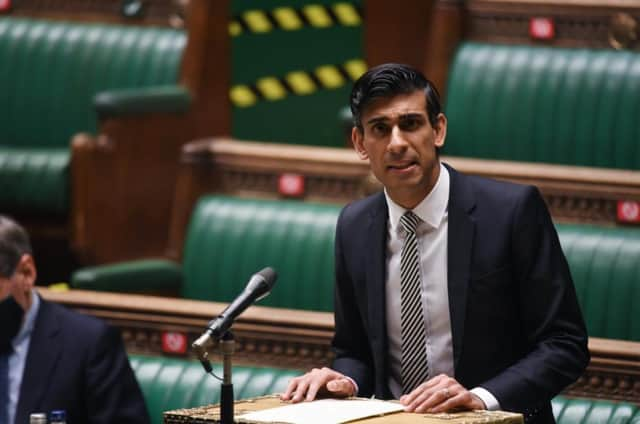 LIVE: Chancellor Rishi Sunak unveils 2021 Budget
Show new updates
Number 10 said Prime Minister Boris Johnson told ministers the Budget would "begin to set out how the country will make the most of our post-Brexit future and as a science superpower".
Mr Sunak has promised to use the Government's full "fiscal firepower" to support jobs and livelihoods.
He will extend the furlough scheme until the end of September and pledge to do "whatever it takes" to help people and businesses through the coronavirus crisis when he addresses MPs at 12.30pm.
The Coronavirus Job Retention Scheme has protected more than 11 million jobs since its inception, but under plans to taper the Government's contribution, employers will be expected to pay 10% towards the hours their staff do not work in July.
Houghton and Sunderland South MP Bridget Phillipson, shadow chief secretary to the Treasury, said the changes to support schemes "could have been made months ago".
And she accused Mr Sunak of focusing on "getting his moment in the sun rather than protecting jobs and livelihoods".
He tells the Commons: "Much has changed, but one thing has stayed the same: I said I would do whatever it takes – I have done and I will do."
The Chancellor says it will take the UK and the whole world a "long time to recover from this extraordinary economic situation", telling MPs: "But we will recover."
He says more than 700,000 people have lost their jobs since March 2020 and the economy has shrunk by 10%, the largest fall in more than 300 years: "First, we will continue doing whatever it takes to support the British people and businesses through this moment of crisis.
"Second, once we are on the way to recovery, we will need to begin fixing the public finances – and I want to be honest today about our plans to do that.
"And, third, in today's Budget we begin the work of building our future economy."
Mr Sunak says the forecasts show the response to Covid-19 is "working", adding: "The Office for Budget Responsibility is now forecasting, in their words 'a swifter and more sustained recovery' than they expected in November.
"The OBR now expects the economy to return to its pre-Covid level by the middle of next year – six months earlier than they previously thought.
"That means growth is faster, unemployment lower, wages higher, investment higher, household incomes higher."
Mr Sunak says Covid-19 has done "profound damage" to the economy and the forecasts make clear that "repairing the long-term damage will take time".
He tells the Commons: "The OBR still expects that in five years' time, because of coronavirus, our economy will be 3% smaller than it would have been."
"The OBR forecast that our economy will grow this year by 4%, by 7.3% in 2022, then 1.7%, 1.6% and 1.7% in the last three years of the forecast."
A July 2020 forecast suggested unemployment could peak at 11.9%, telling the Commons: "Today, because of our interventions, they forecast a much lower peak: 6.5%," he says.
"That means 1.8 million fewer people are expected to be out of work than previously thought. But every job lost is a tragedy, which is why protecting, creating and supporting jobs remains my highest priority."
Mr Sunak confirms the furlough scheme will be extended until the end of September, and employees will continue to receive 80% of their salary for hours not worked.
He tells MPs: "As businesses reopen, we'll ask them to contribute alongside the taxpayer to the cost of paying their employees. Nothing will change until July, when we will ask for a small contribution of just 10% and 20% in August and September."
Mr Sunak says the support for self-employed workers will also continue until September, with the fourth grant providing three months of support at 80% of average trading profits.
For the fifth grant, people will continue to receive grants worth three months of average profits – with the system open for claims from late July.
The full 80% grant will be given to people whose turnover has fallen by 30% or mores: "People whose turnover has fallen by less than 30% will therefore have less need of taxpayer support and will receive a 30% grant."
On changes to the self-employed scheme, the Chancellor says: "When the scheme was launched, the newly self-employed couldn't qualify because they hadn't all filed a 2019/20 tax return.
"But as the tax return deadline has now passed, I can announce today that, provided they filed a tax return by midnight last night, over 600,000 more people, many of whom only became self-employed last year, can now claim the fourth and fifth grants."
He says the £20 weekly increase for Universal Credit will continue for a further six months and the minimum wage will increase to £8.91 an hour from April.
On apprenticeships, Mr Sunak said: "I'm doubling the incentive payments we give businesses to £3,000 – that's for all new hires, of any age."