REVIEW: Ellie Goulding, Metro Radio Arena, Newcastle
If ever there's a gig to wave your lighters - or iPhones these days - in the air it's at an Ellie Goulding show.
Published 17th Mar 2016, 09:28 BST

- 2 min read
Updated 17th Mar 2016, 10:06 BST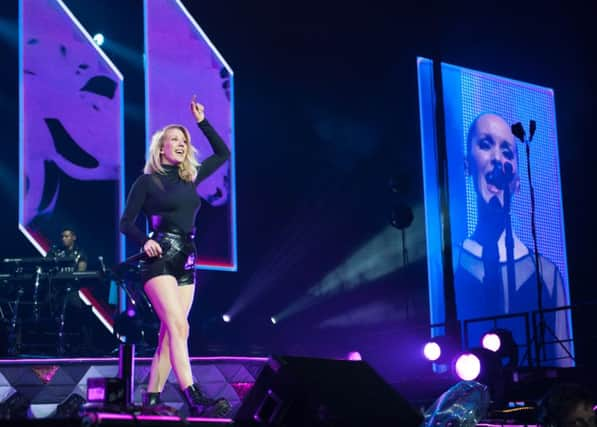 Turn on any radio station and you're likely to hear the British singer's distinctive breathy tones belting out one of her many hits.
But she wants you to truly appreciate the anthems live, and asked people, very politely in her Home Counties twang, to put their phones in their pockets and remember the gig by memory - can you even imagine?!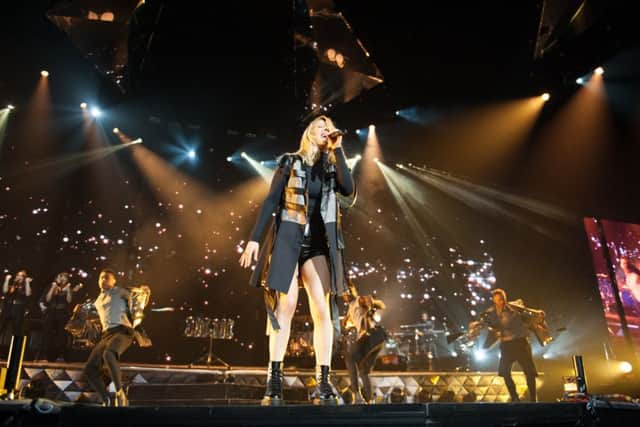 I wasn't sure how the singer's often folky lilt would translate in the cavernous arena, but she impressed her fans of all ages who'd packed out Newcastle Arena with a pure pop show.
She emerged on stage atop a podium clad in leather shorts and Dr Martens in front of a classy stage set which pulsated with sultry, wind-swept images of the star, cosmic graphics and twinkling fairy lights.
She opened with Aftertaste, a foot-tapper from her third album, Delirium, which gives its name to the tour. It was a gentle way to ease the audience into the show before launching into her more well-known hit Outside.
In a nod to her acoustic roots, she strummed a white guitar along to Devotion. "People are used to me writing cynical love songs, but every so often I do a straight up one," she told the swaying crowd.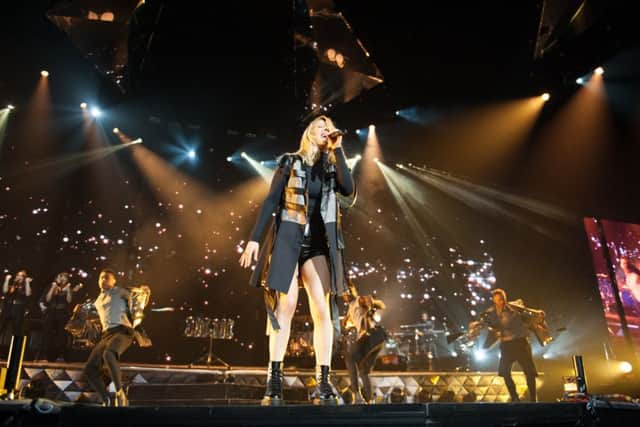 Ignoring fans' chants for her to down a drink she'd labelled "party water", she pulled on a catsuit for a neon-lit performance of Keep on Dancin'.
The Brit Award winner's an interesting performer: one that seems almost shy, yet she's still able to command a crowd. It's a dichotomy that's echoed in her set, which moves from dance tracks to softer, gentle tracks - a balance that's helped her become one of Britain's biggest chart-toppers.
"I don't really like wearing dresses," she said as she donned an ethereal white gown for How Long Will I Love You?, one of her trademark romance tracks.
Army went down well with Ellie's army, as she explained the ode to her best friend and performed the sentimental track against a backdrop of photos of the pals.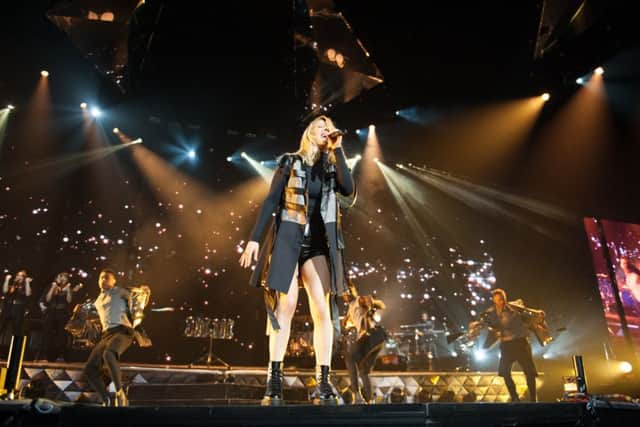 Back in her leather shorts and a studded jacket, she gave a more physical performance for hits I Need Your Love and Burn as plumes of smoke shot through the air and Ellie leaped about the stage - an energy you don't get from her high-heeled contemporaries.
She ended the gig on a high note, quite literally, with a trio of classic Ellie tracks, Your Song, Anything Can Happen and Love Me Like You Do, showering the crowd with gold confetti and tunes you can't help but sing along to.