REVIEW: Little Mix: Get Weird Tour, Metro Radio Arena, Newcastle
Even the show-stopping blazing heat of the pyrotechnics couldn't upstage Little Mix tonight - the girls put on the show of their lives.
Published 17th Mar 2016, 22:58 BST

- 2 min read
Updated 18th Mar 2016, 05:46 BST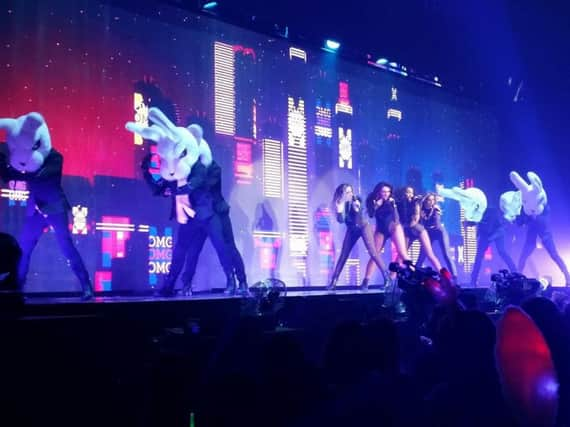 It was an especially poignant stop on the Get Weird Tour for South Shields group members Perrie Edwards and Jade Thirlwall.
But it was a night the sold-out crowd are sure to be talking about for a very long time.
Along with Jesy Nelson and Leigh-Anne Pinnock, the girls put on a theatrical spectacular I'll never forget.
The show had a Fairytale theme based around the success of their record-breaking hit single Black Magic.
After becoming the first group to win the X Factor in 2011, the foursome have gone from strength to strength and their incomparable talent was evident tonight as they worked their way through one up-tempo pop hit after another.
Flying up into the air as they first took the stage, the girls went straight into sassy album track Grown before moving on to the equally-empowering Hair.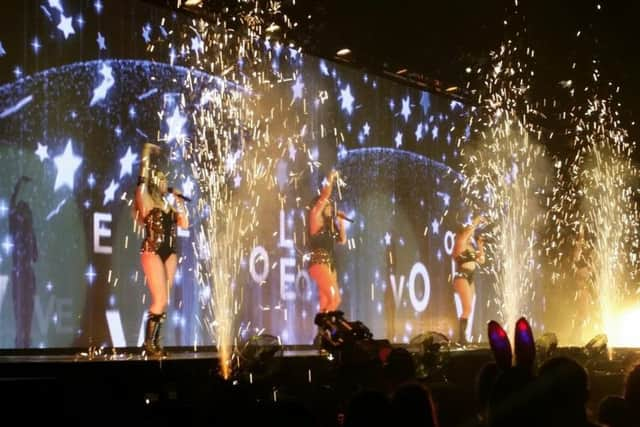 The girls showed off their slinky physiques in figure-hugging outfits.
They were forced to defend their tour ensembles earlier this week with some saying they were too skimpy.
But the girls are all in their 20s now. They've grown into confident, gorgeous and successful women, so why shouldn't they flaunt what they've got?
They looked incredible. If I looked half as good as they did in outfits like that I'd never wear anything else.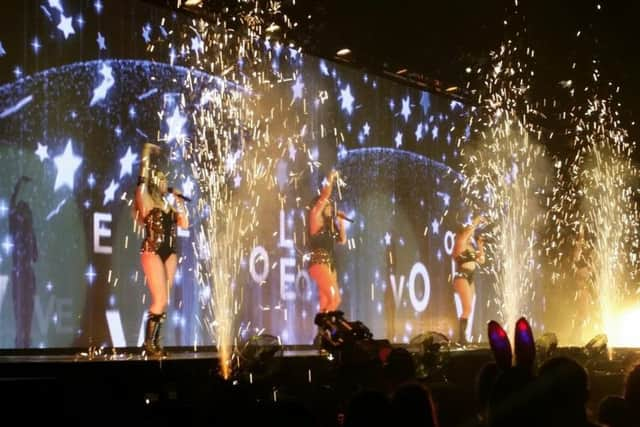 The quartet took fans back to their first album with inspiring track Change Your Life as videos of them meeting fans flashed up on a big screen above them.
They also brought back memories with classic Little Mix tracks like Wings, DNA and Little Me.
Saucy song ADIDAS saw the girls put on a sultry display sat atop thrones as their male dancers performed on the floor below them.
The girls gave an energetic performance of fast-paced choreography without missing a single note.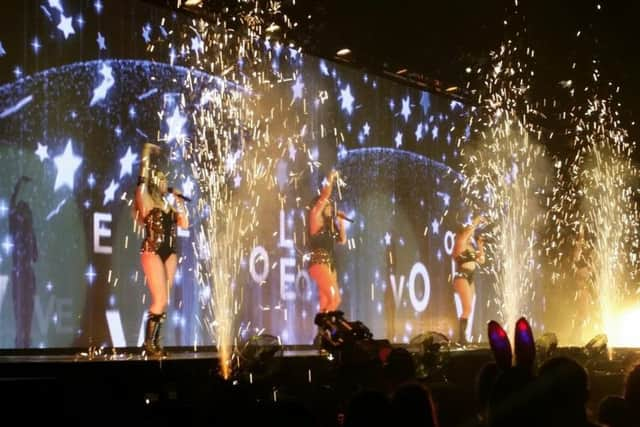 Their vocal prowess was put to the test and they passed with flying colours, and then some.
I don't know how they do it night after night. After letting my hair down by singing along and letting loose my inner teenager by screaming and cheering, I'm not even sure I'll be able to speak tomorrow, let alone sing.
Other back catalogue singalongs came with Salute and How Ya Doin'? and the crowd went wild for every single song.
But the girls are also masters of the heartbreaking ballad with Secret Love Song and a gorgeously - executed a cappella rendition of The End getting emotions running high.
Get Weird's second single Love Me Like You went down a storm and the girls ended with a bang, closing the show with the long-awaited Black Magic.
They've achieved more in their few short years since winning the X Factor than some groups could ever dream of and this show-stopping tour production is the ultimate high-octane celebration of everything we love about Little Mix.
If you're lucky enough to have tickets, you're in for the time of your life.
Little Mix are back at the Metro Radio Arena on April 9 and 16.