South Shields mum who donated kidney to her daughter celebrates golden wedding anniversary
A mother who donated a kidney to save her daughter's life is celebrating 50 years of wedded bliss with her devoted husband.
Published 4th Apr 2018, 06:00 BST

- 2 min read
Updated 4th Apr 2018, 07:36 BST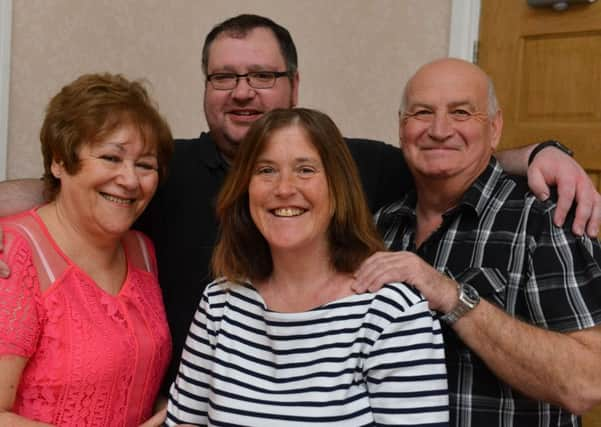 Carol and David Hammond hit the headlines when the then 69-year-old stepped forward to take part in the the life-saving procedure.
Three years on, Lindsey Grimmer is continuing to do well following the operation as Carol and husband David get set to jet off on a holiday to Mexico to celebrate their golden wedding anniversary.
The couple met in 1961 as teenagers at a dance held at Bailey's Cellar Club in Beach Road, South Shields.
It was love at first sight for the pair, Carol who was 15 and David. who was 14.
After courting for several years they became engaged at 18.
The couple married at St Aiden's Church on April 3, 1968, when they were 22 and 21, respectively, with a reception at the Cream House in Beach Road.
But while the day itself went without a hitch, a few months later the couple were dressed up again in their wedding outfits and standing outside the church where they had previously exchanged their vows.
David said: "Carol's mam didn't like the wedding photos, so we had to get new photos taken. We had to get ready again and we stood outside the church to have our photos taken."
The couple, who moved to Barrow-in-Furness before settling back in South Shields, went on to have two children, Lindsey, now 48 and Kevin, 43.
Over the years, the couple, who live on Ocean Road, have endured a number of health scares. David has battled cancer, which left him needing to have a kidney removed, as well as two heart attacks.
Carol said: "It was a difficult time. It was more difficult for Dave, as my dad, who was 95, was living with us.
"Lindsey came to live with us while she recovered and we also had her two kids.
"We just had to get on with it. David was the nurse and looked after all of us."
Lindsey and Kevin both say they are proud of what their parents have achieved in their married life - and for reaching their 50-year milestone.
Carol added: "When we got married, it was for life. We've turned around and here we are 50 years later. We can't believe it."
The couple, who have two grandchildren, Rebecca, 20, and Chloe, 17, marked the occasion with a family meal before heading off on holiday.