'We should be treated the same' - South Shields taxi drivers anger at lack of Newcastle Clear Air Zone help
'We are getting no help at all': South Tyneside taxi drivers' anger over Newcastle Clean Air Zone.
Published 7th Mar 2023, 06:00 BST

- 3 min read
Updated 7th Mar 2023, 09:58 BST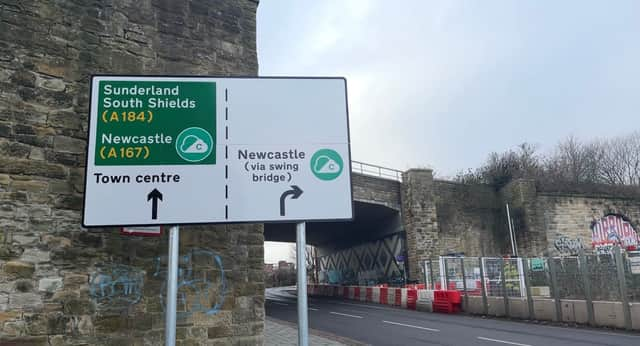 The new city centre charging zone has been in operation for more than a month, putting tolls on some high-polluting vehicles in a bid to slash illegal levels of emissions.
Older taxis that do not meet the CAZ's environmental standards face daily £12.50 fees to come into or through Newcastle city centre.
But while drivers licensed in Newcastle, Gateshead, and North Tyneside have been offered the chance to apply for grants to help upgrade to a cleaner vehicle and to get a discounted £50-a-week charge instead, there is no such support for taxi companies outside those three areas.
That has become a major source of frustration for drivers in places like South Shields, Jarrow, and Hebburn, who are finding it far more costly to take passengers into the city.
Del Thoburn, owner of South Shields-based Del's Taxis, said: "We are getting no help at all and I am taking the hit because I don't want to pass the cost on to the customers.
"I used to have six big buses but now I have gone down to just two and this is one of the reasons. There is no help with the CAZ if you don't live in Newcastle, Gateshead, or North Tyneside. We should be treated the same as them."
Council bosses in charge of the CAZ say they only have "limited" funding from the Government and have had to target the financial support at people likely to be most heavily affected by the new restrictions – but have not ruled out widening their offers to other areas in future.
After concerns about the impact on South Tyneside were raised at the North East Joint Transport Committee last week, a spokesperson for South Tyneside Taxis Ltd told the Local Democracy Reporting Service: "We have drivers here who don't want to take a job in Newcastle now. They can't afford to pay the £12.50 and you can't charge the customer for it because, at the end of the day, they just won't want to go to Newcastle if it costs them £12.50 extra.
"If you're picking them up around midnight, it can be £25 extra because it goes over two days. To me, it is all wrong and it is going to have an impact on the centre of Newcastle.  The other boroughs are getting help, but we aren't."
A spokesperson for the Newcastle and Gateshead Clean Air Zone said: "The funding for financial support for those affected by Clean Air Zone charges is provided by government and it is limited.
"We are therefore targeting this funding towards those who are more likely to be affected – in particular those who have no choice but to operate within the zone and those who are more likely to make regular journeys into the zone.
"This is aimed at ensuring support is given to those who need it most but, once these applications have been dealt with and subject to funding availability, we will look at inviting grant applications from other areas."
The introduction of the CAZ, which has been in the works for years, means that drivers of older buses, taxis, lorries, and coaches that do not meet certain environmental standards must pay daily tolls of either £50 or £12.50 to come into or through the city centre.
There are also £12.50 charges planned for older vans from this July, but all private cars are exempt.
The charging zone has been imposed in response to a Government order to cut emissions levels in certain hotspots, with poor air quality having been linked to more than 300 deaths on Tyneside every year.