Asian Hornets: 'Massive' nest discovered in derelict UK house - sparking fresh warnings about the killer bugs
A huge Asian hornet nest has been found in the ceiling of a derelict UK house, sparking fresh warning about the bugs which can 'kill with one sting'
Watch more of our videos on Shots! 
and live on Freeview channel 276
Visit Shots! now
A massive Asian Hornet nest has been discovered in a derelict house -prompting a fresh warning for the public. It is one of the largest nests discovered in the British Isles this year, measuring about 15 inches (40cm).
The nest was hanging from the ceiling of an abandoned home in St Brelades, Jersey and was destroyed on August 14. Authorities say numbers of the invasive species have been growing and they are on course for a record number of nests being uncovered this year.
A total of 171 have been found so far in 2023 compared to 100 at the same stage in 2022. Alastair Christie, Asian hornet co-ordinator for the Government of Jersey, said of the latest find: "It's the biggest we've dealt with so far this year.
"It was in a derelict house, no wind, no rain, out of the cold - beautifully sheltered... A bit of a one-off."
Fears have been growing for many years that the killer bug will use Jersey as a launching pad to dig trenches in mainland Britain - with calls for a 'Dad's Army' to help stop the spread of the species. The ongoing battle has long raged in the Channel Islands 'frontline' in a bid to stop the hornets decimating the native bee population.
But it is now feared they could be establishing a fresh route from the continent and several recent sightings have been confirmed on the coastline around Kent. Mr Christie said with the latest nest found could have around 1,500 hornets in it – and urged the public to be extra vigilant.
He added: "With branchage coming up, anyone cutting back hedges or banks need to be aware of the risk of disturbing wasp and Asian hornet nests."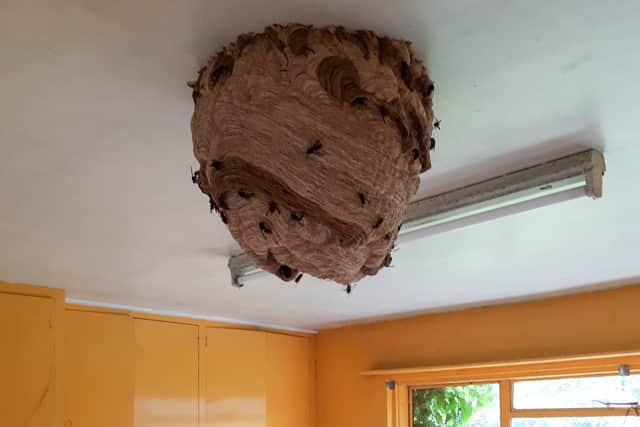 Mr Christie also urged the public not to disturb nests as the hornets can be 'very aggressive' - with one individual being stung 12 times last year after disturbing a nest while cutting his hedge. He added: "Destruction of the nests is logistically challenging.
"They can be found up trees, on cliff faces, inside roof spaces, or within brambles. They are in such varied locations and efficiency and safety have to be prioritised when removing the nests."
The species began to spread through Europe in 2004 after arriving in the south of France inside a freight ship. They were spotted in the British Isles on Jersey in late 2016.
But after years of establishing themselves on Jersey and Guernsey the battleground shifted last year to Southern England. The hornets are able to kill with one sting among people who have an allergy while they also pose a threat to the environment and native species.
Further recent sightings have taken place in Devon.