Barclays bank to axe 450 jobs across business after shutting dozens of branches - full list of closures
Barclays has closed dozens of bank branches across the UK in the past year, with nine more closures announced earlier this month - full list.
Watch more of our videos on Shots! 
and live on Freeview channel 276
Visit Shots! now
Barclays is planning to cut around 450 jobs across the business, according to trade union Unite. The union said its members were informed by the banking giant of the decision on Tuesday (September 12).
It is understood that mid to senior level staff at the business's head office are likely to be affected by the job cuts. It comes after reports that Barclays was looking to slash costs while working on a wider strategy review.
Unite, which represents staff members at the bank, slammed the "unnecessary and unjustified" decision and said it will meet with the group's chief executive to push for a guarantee of non-compulsory job losses, which means staff are invited to volunteer for redundancy.
Unite's national officer, Dominic Hook, said: "How can a profitable finance organisation such as Barclays slash over 450 staff amid a cost-of-living crisis? This isn't an organisation struggling to survive, this bank is making billions of pounds of profits.
"If these plans for compulsory redundancy are implemented then hundreds of families will lose their livelihoods and face financial hardship because of a management decision which is both unnecessary and unjustified. The staff losing their jobs are not highly paid rich City bankers but those earning modest salaries within Barclays.
"The bank must scrap these plans and reconsider. Unite is willing to work with the bank to ensure staff are given re-training and redeployment opportunities."
A spokesperson for Barclays said: "We continue to review and adapt our operations based on the ways customers are choosing to interact with us. These changes will enable greater collaboration across our teams, allowing us to continue to improve service for customers and clients. We are committed to supporting colleagues through this change, working closely with Unite."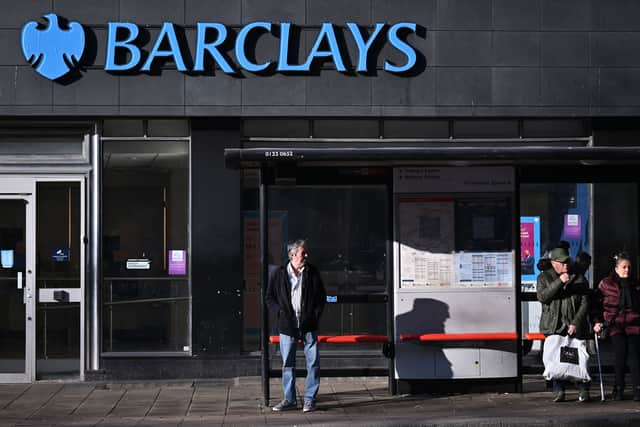 56 Station Road, Redcar - 15/11/2023
505 - 507 Kingsbury Road, London - 10/11/2023
64 High Street, Pwllheli, Wales - 15/11/2023
28 Market Place, Cirencester - 17/11/2023
7 Market Place, Middleton in Teesdale - 17/11/2023
91 Taff Street, Pontypridd, Wales - 16/11/2023
93 Euston Road, London - 15/11/2023
6 Market Place, Durham - 08/12/2023
86/90 Dalton Road, Barrow In Furness - 17/11/2023
Full list of Barclays bank branches that have already closed
16 Newton Road, Mumbles, Swansea - 07/03/2023
100 Whitby Road, Ellesmere Port - 02/03/2023
4 Sycamore Road, Amersham - 01/03/2023
161 High Street, Kings Heath, Birmingham - 10/03/2023
227/231 Heathway, Dagenham - 03/03/2023
21 Market Place, Sleaford - 08/03/2023
6 Manor Street, Bridlington - 06/03/2023
The Parade, Liskeard - 02/03/2023
39/40 Fleet Street, Torquay - 08/03/2023
85 High Street, Sittingbourne - 08/03/2023
2B St Mary Street, Weymouth - 03/03/2023
1 Hanbury Road, Bargoed - 14/04/2023
260 Walworth Road, London - 13/04/2023
104/108 Tower Bridge Road, London - 19/04/2023
70 Birmingham Road, Rowley Regis, Warley - 21/04/2023
93-95 Hutton Road, Shenfield - 19/04/2023
304 Green Street, London - 20/04/2023
5 Church Street, Barnoldswick - 14/04/2023
45 Oxford Road, Guiseley - 12/04/2023
390 Harrogate Road, Leeds - 21/04/2023
3 Station Road, Flitwick - 14/04/2023
8/10 High Street, Woburn Sands, Milton Keynes - 18/04/2023
55 Front Street, Stanhope, Bishop Auckland - 21/04/2023
Market Square, Keswick - 21/04/2023
42 High Street, Hunstanton - 12/04/2023
10 Market Place, Macclesfield - 14/04/2023
7 High Street, Chislehurst - 04/05/2023
2 Church Street, Heywood - 28/04/2023
19 Church Street, St Helens - 04/05/2023
43/44 High Street, Gosport - 26/04/2023
221 Watling Street, Radlett - 05/05/2023
19 Fleet Street, London - 03/05/2023
18a North End, Bedale - 26/04/2023
Market Place, Leyburn - 05/05/2023
3 Ely Valley Road, Talbot Green - 05/05/2023
2 New Street, Oundle - 05/05/2023
46/49 Broad Street, Stamford - 28/04/2023
10 High Street, Oakham - 28/04/2023
45 Market Street, Wymondham - 28/04/2023
56 High Street, Watton - 03/05/2023
16 High Street, Bridgwater - 26/04/2023
137 Brompton Road, Knightsbridge, London - 07/07/2023
35 Notting Hill Gate, London - 16/06/2023
47 High Street, Merthyr Tydfil - 14/06/2023
10 Bethcar Street, Ebbw Vale - 09/06/2023
21 Cowgate, Kirkintilloch - 09/06/2023
6/8 High Street, Ringwood - 08/06/2023
21 High Street, Lymington - 15/06/2023
4 High Street, Manningtree - 07/06/2023
10 Yorick Road, West Mersea, Colchester - 13/06/2023
3 Beckenham Road, Beckenham - 14/06/2023
1 Station Road, Knowle - 16/06/2023
1 Tudor Square, West Bridgford - 15/06/2023
29 High Street, Mildenhall - 14/06/2023
58 High Street, Newmarket - 09/06/2023
46 Rhosmaen Street, Llandeilo - 23/06/2023
38/42 High St, Mold - 30/06/2023
12 Station Street, Saltburn-by-the-Sea - 30/06/2023
24 Fore Street, Tiverton - 28/06/2023
106 High Street, Honiton - 23/06/2023
10 The Square, Caterham - 23/06/2023
112 Woodcote Road, Wallington - 28/06/2023
65/67 Sandgate Road, Folkestone - 23/06/2023
66 Market Place, Chippenham - 23/06/2023
1 The Square, Holmes Chapel - 27/06/2023
13/15 Victoria Square, Holmfirth - 23/06/2023
337/339 Stanley Road, Bootle - 30/06/2023
207 High Road, Loughton - 22/06/2023
28 Chesterton Road, Cambridge - 28/06/2023
35 Market Hill, Sudbury - 06/07/2023
235 Northolt Road, South Harrow - 14/07/2023
7 The Cross, Oswestry - 14/07/2023
9 Castle Street, Llangollen - 07/07/2023
62 Station Road, Hayes - 13/07/2023
1 High Street, Canvey Island - 07/07/2023
61 Bow Street, Lisburn - 21/07/2023
3 High Street, Portadown - 28/07/2023
15 High Street, Chipping Norton - 06/07/2023
76 High Street, Yarm - 14/07/2023
1 Gravel Hill, Wombourne - 12/07/2023
78 Regent Street, Kingswood - 06/07/2023
20 Bondgate Within, Alnwick - 07/07/2023
1 Seafield Road, Seahouses - 14/07/2023
18 Main Street, Bentham - 12/07/2023
100/101 Bute Street, Treorchy - TBC
17/21 High Street, East Grinstead - 21/07/2023
46 High Street, Heathfield - 26/07/2023
2 Arena Court, Sheffield - 21/07/2023
7/9 King Street, Hoyland Nether, Barnsley - 26/07/2023
Unit H, The Galleries, Washington - 21/07/2023
25 The Parade, Oadby - 20/07/2023
20 High Street, Market Harborough - 28/07/2023
3/5 Kingsland High Street, London - 28/07/2023
463/465 Brixton Road, London - 19/07/2023
255 Fleet Road, Fleet - 19/07/2023
133 High Street, Dunfermline - 18/08/2023
16 Murray Place, Stirling - 11/08/2023
52 Tredegar Street, Risca - TBC
18 Queen Elizabeth II Square, Chelmsford - 11/08/2023
18 High Street, Burnham-on-Crouch - 22/08/2023
118 High Street, Newcastle-under-Lyme - 25/08/2023
90 Liverpool Road, Kidsgrove - 11/08/2023
1 Lower Northam Road, Hedge End, Southampton - 17/08/2023
20/24 Upper Market Street, Eastleigh - 11/08/2023
31 Market Place Wokingham - 18/08/2023
17 High Street, Bognor Regis - 09/08/2023
74 Front Street, Prudhoe - 11/08/2023
Westgate, Haltwhistle - 18/08/2023
High Street, St Ives - 08/09/2023
6 Killigrew Street, Falmouth - 15/09/2023
29/30 High Street, Windsor - 23/08/2023
6 Market Place, Harleston - TBC
14 Market Hill, Diss - 23/08/2023
27 Market Hill, Framlingham - 25/08/2023
41 Market Place, Newark - 17/08/2023
30/32 Bridge Street, Worksop - 24/08/2023
35 Frederick Street, Birmingham - 18/08/2023
351/359 Soho Road, Birmingham - 24/08/2023
18 Stony Street, Frome - 23/08/2023
9 The Bulwark, Brecon - 25/08/2023
45 High Street, Biggleswade - 18/08/2023
59 Grove Street, Wilmslow - 25/08/2023
4 Corn Street, Leominster - 01/09/2023
100 Market Street, St Andrews - 08/09/2023
8 Market Street, Wellingborough - 01/09/2023
61 Lower Ground Floor, The Arcade, Westfield, London - 01/09/2023
131 Finchley Road, London - 06/09/2023
60 Putney High Street, London - 01/09/2023
32 High Street, Chalfont St Peter - 31/08/2023
16 High Street, Harpenden - 06/09/2023
Addenbrookes Hospital, Cambridge - 15/09/2023
39 High Street, Haverhill - 08/09/2023
5 Market Place, Pontefract - 22/09/2023
Bank Street, Hemsworth - 15/09/2023
1 Breadmarket Street, Lichfield - 15/09/2023
The Shopping Village, Castle Point Centre B, Bournemouth - 20/09/2023
26 Evesham Walk, Kingfisher Shopping Centre, Redditch - 29/09/2023
2 The Strand, Bude - 29/09/2023
2 Chester Road, Newquay - 13/10/2023
21 Hanover Square, Mayfair, London - 29/09/2023
25 Charing Cross Road, London - 06/10/2023
17 Market Place, Fakenham - 06/10/2023
Chapel Street, Easingwold - 13/10/2023
24 Market Place, Thirsk - 25/10/2023
23 Yorkersgate, Malton - 19/10/2023
The Twyn, Caerphilly - 13/10/2023
42 Wellfield Road, Roath Park, Cardiff - 20/10/2023
16 High Street North, Dunstable - 13/10/2023
2 Market Square, Leighton Buzzard - 18/10/2023
Unit 33, Arcades Shopping Centre, Ashton-under-Lyne - 13/10/2023
Unit 2 Blue, Media City UK, Salford - 20/10/2023
Station Road, Hoveton, Norwich - 01/12/2023
3 St James Court, Whitefriars, Norwich - 27/10/2023
3 Castle Street, Dumfries - 13/10/2023
28 Station Road, Cuffley, Potters Bar - 13/10/2023
51 High Street, Hoddesdon - 17/11/2023
56 Station Road, Redcar - 15/11/2023
505 - 507 Kingsbury Road, London - 10/11/2023
64 High Street, Pwllheli - 15/11/2023
28 Market Place, Cirencester - 17/11/2023
7 Market Place, Middleton in Teesdale - 17/11/2023
91 Taff Street, Pontypridd - 16/11/2023
93 Euston Road, London - 15/11/2023
6 Market Place, Durham - 08/12/2023
86/90 Dalton Road, Barrow In Furness - 17/11/2023