Bird flu: Free range eggs set to return to supermarket shelves soon as restrictions ease across the UK
Free range eggs were removed from shelves after the world's largest ever bird flu outbreak
Watch more of our videos on Shots! 
and live on Freeview channel 276
Visit Shots! now
UK shoppers will be able to buy free range eggs once again from today (April 18) as bird flu restrictions are eased. This comes after last year saw the biggest ever
outbreak of bird flu in the UK and the world.
The lifting of restrictions means that eggs laid by hens with access to outdoor areas can be marketed as "free range" again, a move which has been welcomed on animal welfare grounds. However, experts say the H5N1 virus is still very much circulating and continues to pose an ongoing risk to wild birds.
Robert Gooch CEO of the British Free-Range Egg Producers Association said: "This is good news for birds that have been kept inside over the winter months - and for consumers that want to be able to buy free range eggs," adding that: "some farmers are feeling a sense of trepidation given bird flu is still around in wild birds."
The reduction in restrictions comes just as seabirds are set to migrate en masse to the UK coast for their breeding seasons.
The price of free range eggs have risen exponentially over the past 12 months due to egg shortages that the bird flu outbreak is partly responsible for. However, Robert Gooch did say that the most common reason for the increase has been farmers quitting the industry due to poor prices from retailers.
RSPB director of advocacy and policy Jeff Knott told BBC News: "The problem has certainly not gone away for wild birds. Too often the impacts on wild birds - which are incredibly severe - get forgotten. We have to be careful we don't sleepwalk into a catastrophe for our wild birds."
The outbreak of the H5N1 virus caused thousands of deaths in seabirds, hitting dozens of species including golden eagles, buzzards, herring gulls and gannets. The disease also infected mammals such as otters, foxes, seals and dolphins.
The disease didn't just affect wild birds but also there were hundreds of reported outbreaks at poultry farms with around 4 million birds reportedly culled. This led to free-range poultry being ordered to be brought inside in England, Wales and Northern Ireland, to avoid the birds coming into contact with wild birds. The order was not implemented by Scotland as the country's chief vet said the evidence did not justify the move.
As the threat for the virus is now deemed low enough to allow free-range poultry and captive birds to be kept outside across the UK, farmers will have to adhere to strict biosecurity measures and keep birds away from land where wild birds congregate.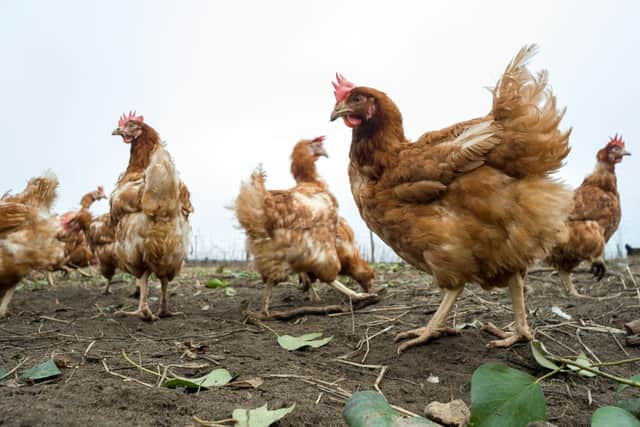 However, the risk is far from over for wild birds, with experts warning just last week that the H5N1 virus may threaten the survival of some bird species in Scotland. Knott said it's uncertain whether the disease would cause mass death again saying: "We're waiting with baited breath to see whether we get a repeat of last year's die off or not," adding "We are concerned."
A spokesperson from the Department for the Environment (Defra) said the current outbreak "poses a significant threat to the UK's wild bird populations". They added that £1.5m had been invested in a research project to understand how the disease is behaving in wild and kept birds, and the outbreak would continue to be kept under review.
What does free-range eggs mean?
According to the RSPCA, which has an 'RSPCA assured' stamp, all eggs sold in the UK must be stamped with the method of production: 0=organic, 1= free-range, 2=barn, 3=caged and this must also be stated on the eggs box. Free-range eggs have come from birds that, during the daytime, enjoy unlimited access to outdoor pastures.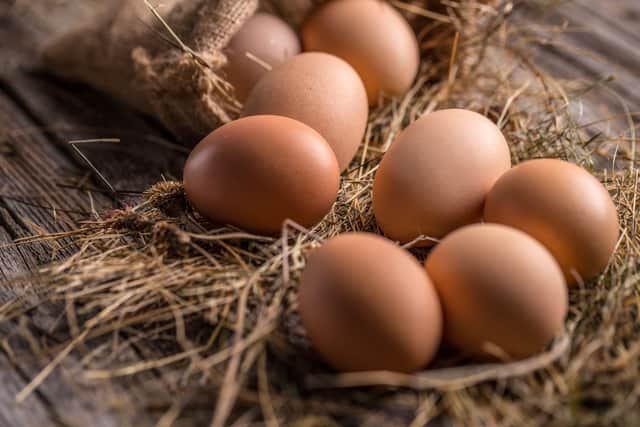 They say that at night, free-range hens are housed in barns, which allows them to express normal behaviour with perches for roosting and a maximum of nine hens per square metre of usable inside space. For free-range hens, the maximum flock size on an RSPCA Assured farm is 16,000 birds.
Free-range hens must be provided with litter to allow the hens to perform natural behaviours, and which covers at least one-third of the floor surface, they add.