Donald Trump: key moments from former president's CNN event as he calls sex accuser 'a wack job'
Donald Trump sat down with CNN last night (May 10) to discuss a wide range of topics 
Watch more of our videos on Shots! 
and live on Freeview channel 276
Visit Shots! now
Former US President Donald Trump has labelled the woman he sexually abused a "wack job." The remark came during a Town Hall interview with CNN in which Trump repeated a number of conspiracy theories and untruths. 
Mr Trump sat down with CNN's Kaitlan Collins and was pressed about this and a wide range of other topics. Also on the agenda was the on-going war in Ukraine. 
The chaotic interview was part of his ongoing campaign to become President once again in 2024. It also showed in clear daylight that his third bid to become president will be very similar to the first two, with a series of untrue claims and controversial views. 
Sexual assault case
Earlier this week, a jury in a civil case ruled that Mr Trump sexually assaulted E Jean Carroll in a department store changing room in the 1990s - a woman who Mr Trump labelled as a lying "wack job". He said: "What kind of a woman meets somebody and brings them up and within minutes, you're playing hanky panky in a dressing room?"
Ukraine War 
On the ongoing war, Mr Trump claimed that if he was president it would be settled in 24 hours. Mr Trump also added that he would meet with both President Putin and President Zelenskyy. 
"If I'm president, I will have that war settled in one day, 24 hours.They both have weaknesses and they both have strengths and within 24 hours that war will be settled.
 "It'll be over, it'll be absolutely over. Russians and Ukrainians, I want them to stop dying."
2021 Capitol Riots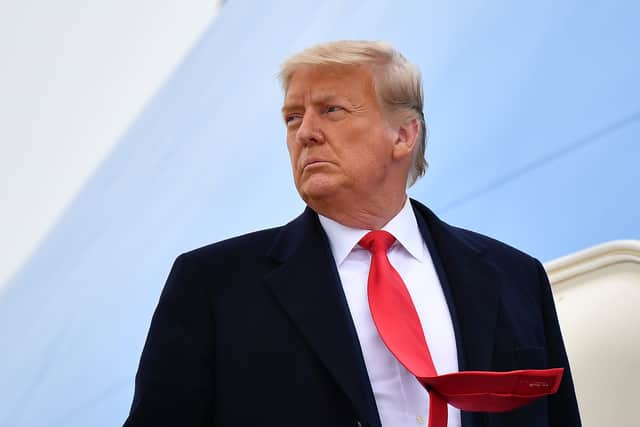 The riots in and around the Capitol Building in Washington DC in January 2021 erupted after Mr Trump made false claims about election fraud. This led to thousands of his supporters storming the building and occupying it for several hours. 
The riots were briefly touched upon in the interview. Many of the rioters would be pardoned if he won re-election in 2024, as Mr Trump said: "I am inclined to pardon many of them. I can't say for every single one because a couple of them probably got out of control."