Sarm Heslop: Mum of daughter who disappeared on the US Virgin Islands believes daughter is dead
The mother of Sarm Heslop, a British woman who disappeared in 2021, says she believes her daughter is dead
The mother of Sarm Heslop has said she believes her daughter who has been missing for two years is dead. Heslop was last seen leaving a bar with her boyfriend Ryan Bane in the US Virgin Islands on March 7 2021.
Bane reported Sarm missing from his catamaran Siren Song, which was moored off the island at 2:30am local time on the following day. The British former flight attendant's mobile phone, bank cards and other possessions were left on the boat, on which she had been working for US citizen Bane.
Speaking to the BBC, her mother, Brenda Street, said: "I feel I should grieve. I don't know how to. My heart's broken. Now after two years it's not possible she is missing. I don't believe she is still alive - I wish to be able to find her and bring her home.
"Sarm would never put her family and friends through this torment, this gut wrenching heartache for this long. I imagine her as a mermaid…. If she is in the ocean because she loved the ocean."
Despite Bane reporting Ms Heslop's disappearance at 2:30am local time, the coastguard were not informed of the missing woman until noon later that day. Upon arrival, his lawyer denied the police request to search the boat, and did not leave an interview.
Ms Street added: "They just seem to try and push it under the carpet. I had an email from the VIPD a couple of weeks ago. That's the first time in 18 months. It said, 'Hope you're doing well, have you any further information?'
"My relationship with the authorities is non-existent, they just ignore us. We sent a long list of questions - lawful and legal ones - but they just didn't reply to us."
"They didn't go to the boat to check she was there. They didn't tell the coastguard. If she had fallen overboard, the coastguard would have been there immediately, not nine hours later.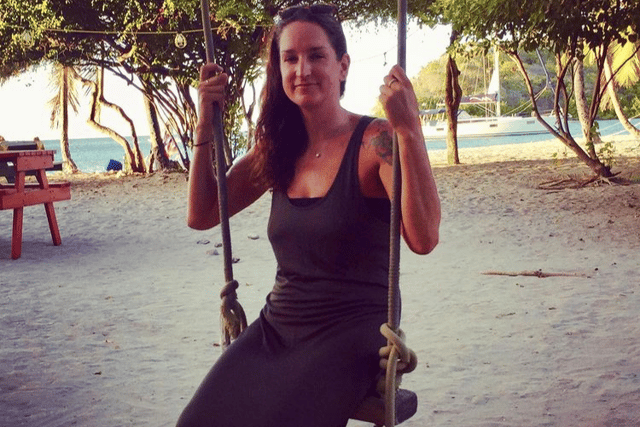 Sarm's disappearance is currently being treated as a missing persons investigation by the Virgin Island Police Department (VIPD), and Ms Street wants the department to allow UK police access to the case.
"The FBI and Hampshire police have offered help but they have been turned down", she said.
In a statement, the VIPD said: "The Virgin Islands Police Department continues to send thoughts and prayers to the family, friends and colleagues of Sarm Helsop.
"The VIPD Criminal Investigations Bureau continues to work this ongoing."