Watch unique time lapse video showing man documenting son's life in pictures for 30 years
A devoted dad's mission to take a photograph of his baby boy every day has continued as his son enters his 30s - and created an incredible time lapse video of his life
A devoted dad has turned 11,000 photographs taken of his son every day for the last three decades into a mesmerising time-lapse video. Ian McLeod, 66, started taking pictures of his son Cory from his birth in 1991.
Cory, now 31, continued the routine by taking a selfie every day even when he moved away for university and travelled around the world. He hopes to be the first person in the world to document his life from 'birth to death'.
The duo's combined collection has now been turned into a stunning video charting Cory's life using almost 11,000 pictures taken between his birth and his 30th birthday. The eight-minute-long clip speeds through pictures of him as a toddler, blowing out candles on his 21st birthday cake and later travelling to more than 60 countries.
Ian initially intended to make a flick book charting the early years of his son's life, but his labour of love continued into the digital age.
Cory said: "My mum and my dad were very artistic people and they met at art college, so they are creative people. He said he had a glass of wine before I was born and he had an idea to make a flick book.
"This was obviously pre-internet and pre-digital so that was all it was going to be. Once he got to two years, he thought he would get to three years and then it got to four years and five years and just kept going.
"To me, it's a very unique piece of art and I hope my dad gets some kind of recognition."
The touching footage documents Cory's schooldays, birthdays, football matches, starting university and even his time travelling around Australia.It also shows him enjoying a family Christmas, starting a new job after moving to Dubai and visiting Tenzing-Hillary Airport, the most dangerous airport in the world.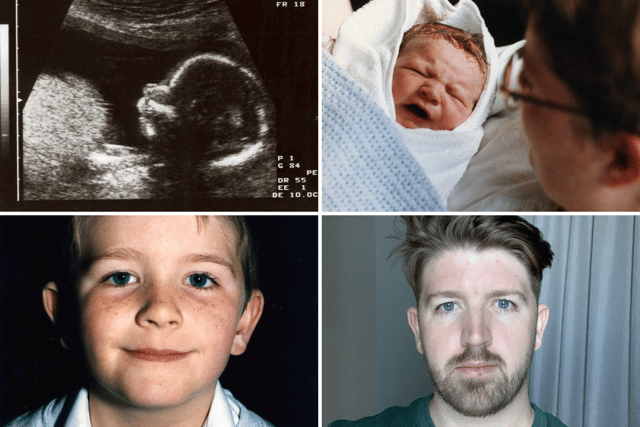 It comes 10 years after Ian made a similar clip for Cory's 21st birthday, which became an internet sensation, and wracked up more than six million views on YouTube.
Ian, of Harrogate, North Yorkshire, took on the project thinking he would stick to it for a year or two, but he duly stuck to his routine of taking his son's picture almost every day.Ian said: "After a year of taking photos, I thought "hmm maybe I can do 2 years..." and so it went. Once YouTube had arrived, it made sense to turn the project into a time-lapse film.
"Of course it was pre-digital back then so I had to have the films developed and printed, and organise them all into photo albums. We still have a cupboard at home in the living room with all the daily photos."
Ian said he 'never knew where it was heading' but hoped it would benefit Cory in some way."In the early days of the project I never really knew where it was heading", he added.
Persistent Ian would make Cory's teachers take daily pictures on school trips and wake the young lad up in the night if they forgot to take one that day.
Cory added: "Obviously I had no choice in the first couple of years but when I became a teenager it became really annoying because only he saw the vision. I would be at a friend's house and he would have to drive over and take my photo before midnight because he never wanted to cheat.
"Obviously it was a flash camera back then and I would wake up and have to take the picture with the flash. It sounds easy taking a photo every day but it wasn't.
"No one understood it. I think my friend's parents probably thought it was weird because the amount of times he would drive over an hour away to take a photo and then go home."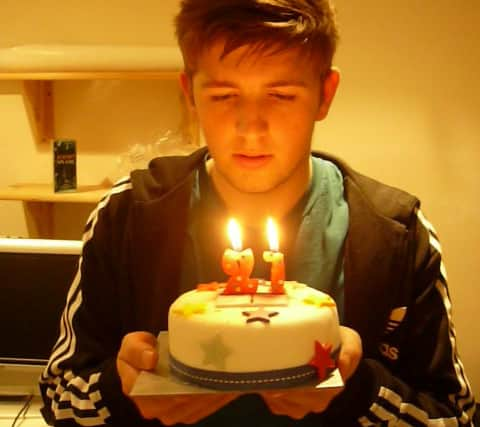 While Ian took the pictures in the early days, when Cory moved to Leeds for university and later went to live in Dubai, he continued the family tradition with a daily selfie.He has now used them in a book detailing the 'stories behind the photos'.
And he has no plans to stop now he's 'come this far' and thinks he will be the 'first person to do it from birth to death'.He said: "I just felt there was more to the story and that it wasn't just photos because there is stories behind those photos.
Cory added: "It's covering my whole life from growing up at school, being bullied, going to university, dealing with anxiety, starting a business and getting dropped from Leeds United.There's no point in stopping now because I've come this far. I guess I'll be the first person to do it from birth to death so it will be quite cool to see someone's whole life."