What is the Boiler Upgrade Scheme and how to check if you are eligible
The Boiler Upgrade Scheme was introduced to reduce the UK's carbon footprint and slash energy bills amid the cost of living crisis
The Boiler Upgrade Scheme was announced back in March 2022 by Boris Johnson's government in a bid to reduce the UK's carbon footprint and slash energy bills amid the cost of living crisis. As part of the scheme, the government set up a funding pot to allow people in England and Wales to apply for grants.
Last month, a House of Lords committee report stated the scheme was "failing to deliver" and risked derailing the country's environmental objectives for households. Peers then urged the government to reassess the scheme.
From 2035, all newly installed heating systems will have to be low carbon which effectively means after 2035, gas boilers will be banned. The average lifespan of a boiler is around 10 years.
Chris Delaney, managing director of the UK's fastest-growing renewables company, Green Building Renewables, said: "Just like the shift that will happen over the next ten years to electric cars as manufacturers phase out petrol cars, a similar change will take place in how we heat our homes with low carbon technology. Unless you have a brand new gas boiler which should last you for the next 10-15 years if regularly serviced and well-maintained, when your existing boiler comes to the end of its life, the next heating solution you should probably be considering for your home will not be a gas boiler."
Chris added: "The Boiler Upgrade Scheme (BUS) is a government-backed initiative launched in May 2022 to support the decarbonization of heat in buildings by providing an upfront grant of £5,000 for air source heat pumps (or £6,000 for ground source heat pumps) to help cover the costs of installing heat pumps and biomass boilers in homes and non-domestic buildings in England and Wales."
But who is eligible for the Boiler Upgrade Scheme and how can you apply? Here's everything you need to know.
Who is eligible for the Boiler Support Scheme?
Eligibility for the BUS varies depending on the specific criteria set by the scheme. However, in general, homeowners and non-domestic building owners in England and Wales may be eligible for BUS if they install a heat pump or biomass boiler to replace an existing fossil fuel boiler.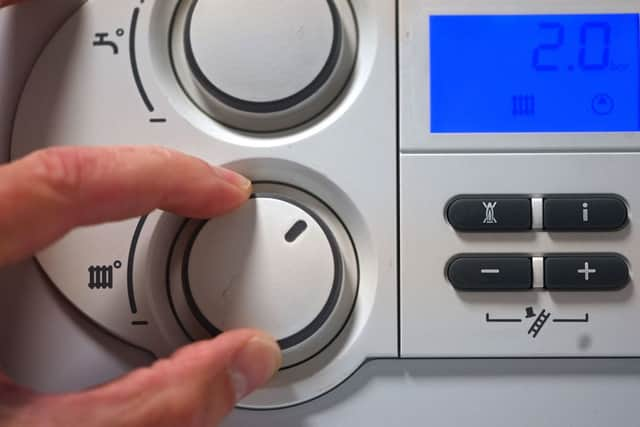 The following groups are excluded from the scheme:
Any home outside England or Wales
New build developments
Social housing properties
People who want to install hydrogen boilers and hybrid heat pumps
How much am I entitled to?
BUS offers the following upfront grants:
£5,000 to support the installation of heat pumps and biomass boilers.
£6.000 off the cost and installation of a ground source heat pump.
How do you apply for the Boiler Upgrade Scheme?
To apply for the BUS, you must find an eligible installer registered with TrustMark or the Microgeneration Certification Scheme (MCS). The installer will help you through the application process, including applying on your behalf.
If you are not eligible for funding, other incentives can help reduce the cost of installing energy-efficient measures in your home. These incentives come in various forms, such as tax credits, rebates, and discounts, and can help make energy efficiency improvements more accessible and affordable.