Which is the best baby car seat for newborns, toddlers, to 12 years? Best from Maxi Cosi, Halfords, Cybex
Keep your child safe, and comfortable from infancy to adolescence, with one of the seats from Halfords, Maxi Cosi, and Ickle Bubba
Published 5th Aug 2022, 12:33 BST
Updated 8th Sep 2022, 09:46 BST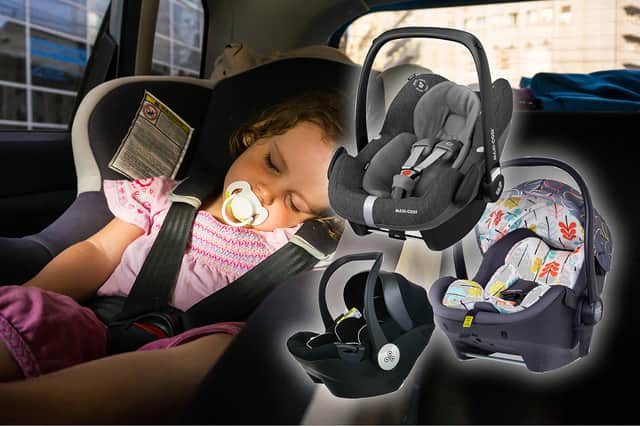 This article contains affiliate links. We may earn a small commission on items purchased through this article, but that does not affect our editorial judgement.
Even before your baby is born, you'll need to buy a car seat. So, it is worth doing a little research to find the right set to met both you, and your new arrival's requirements. Ask yourself:
How long does the seat last for - that is, what age will your child be able to safely use it up to?
How do you determine how safe they are?
Extra features: which are worth paying for, and what do you really need to make your life easier?
What are the legal requirements? 
The law states that your child must be in a car seat until they're 12 years old or 135 centimetres tall: whichever comes first.
Babies must sit in a rear-facing car seat until they are at least 15 months old to offer extra protection, and can use a forward-facing child car seat from then on.
There are two safety regulations car seats must follow: ECE R129, also known as i-Size, and ECE R44.
When is it time to buy? 
If you're expecting your first baby, we'd recommend buying and installing your car seat before your baby is born, and getting to know its features and how to use it well before your little one arrives.
Car seats can be fiddly at the best of times, so knowing in advance which button to press when, and how to secure it safely, is one less thing to figure out once you're enjoying sleepless nights. 
While it's always tempting to get a discount, especially on such an expensive item, it's also recommended not to buy a car seat second hand, as you can never be sure if it's previously been in an accident. It's safest to buy one new.  
How old is your child? 
The first thing to consider when buying a car seat is what age you'll be buying for. There are five groups based on your child's weight, with the first group, 0, suitable for babies from birth to 10kg, and the last group, 3, suitable for children from 22kg to 36kg. 
Many car seats are suitable for multiple groups: you'll just need to follow the instructions to adapt them as your child grows. This can be a great money-saver.
Many parents, however, like to opt for a Group 0 (0kg to 10kg) or Group 0+ (0kg to 13kg) seat for their newborn, as these are more lightweight and often come with features catered towards overwhelmed new parents, such as stroller wheels or a lie-flat function, and can easily be attached to a pushchair chassis with the right adaptors.  
Where will you be driving? 
Do you normally make long car journeys or are you more likely to make short trips and need to pop in and out of the car often?
Do you tend to get a bad back and need all the help you can get when strapping the baby into the car?
Are you on a budget and would you prefer a car seat that will last till your child is older, or would you rather splash out on a more short-term car seat that will make your life easier for the first year of your baby's life?
There's no right or wrong answer to these questions, but being honest with yourself before shopping will make sure you end up with the perfect seat for your family.  
Isofix: what is it, and is it worth the cost? 
While many car seats can be installed correctly using only the seatbelt, buying an Isofix base, which uses fixed anchor points to secure the seats in place, can be a worthwhile investment.
They're often more secure and less fiddly than using a seatbelt, and many brands have bases that last across the car seat groups, so they can last many years.
Many bases will have safety indicators which turn from red to green when you have installed them properly which will bring anxious parents peace of mind. Before buying a base, make sure it is compatible with your car.  
We tested six of the best car seats, taking into account their safety measures, appearance, value for money and standout features. We included car seats across a range of budgets and with a variety of features so whatever your lifestyle, you'll find one to suit your family. 
Best baby and toddler car seats at a glance