Best baby changing bags UK 2023: stylish, wipe-clean, and designer changing bags
Carrying your kids' kit about doesn't have to be cumbersome or look frumpy. Here are practical, comfy nappy changing bags to help you cart your baby essentials in style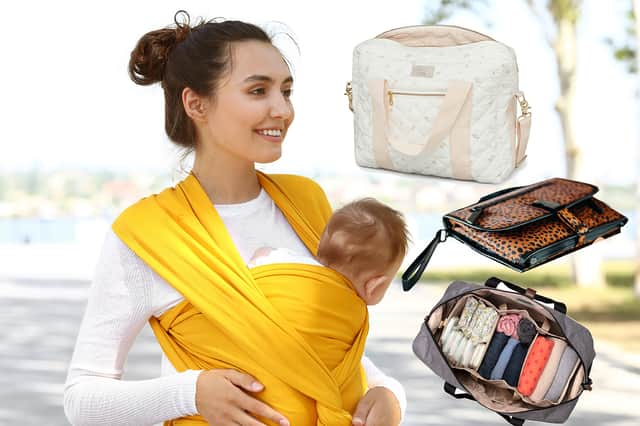 This article contains affiliate links. We may earn a small commission on items purchased through this article, but that does not affect our editorial judgement.
A functional baby changing bag should be at the top of every new parent's shopping list, and with so many fashion-forward brands to choose from, there's no need to compromise on style.
A good changing - or nappy - bag should have multiple compartments and lots of space to help you carry around everything you need in an organised fashion, whether you have a newborn baby or a toddler.
What essentials should you carry in a baby changing bag?
Typical things you'll need to bring with you on a day out (or, let's face it, even an hour out) with a little one can include a changing mat, nappies, wipes, muslins, dummies, bottles, cups, snacks, a change of clothes or two, toys, books and more. That's why you should opt for a lightweight, functional and attractive nappy bag to help you proudly cart it all around.
Do you really need a nappy bag?
Do you need a dedicated changing bag for nappies and baby essentials? We'd give a resounding yes: in those moments when you're desperately searching for a dummy, nappy or a wipe while your baby cries, you'll appreciate the convenience a changing bag offers.
They're packed with perfectly-sized pockets for all your baby items and have added perks you'd never find with a standard bag, such as thermo-insulated baby bottle holders to keep your little one's milk fresh.
Changing mats, bottles holders, stroller clips and wash bags - all have their place
Many bags will also come with included changing mats and bottle holders to save you buying them separately, and some will even come with additional extras such as wash bags, stroller clips to help you attach them to your pram, and extra straps to help you change their configuration from, for example, a backpack to a shoulder bag.
How to choose a baby changing bag
Before you invest in a changing bag, consider what is most important to you, and how you tend to spend days with your baby. Are you always on the move, doing lots of walks with your baby in a carrier?
Then you'll probably want something super lightweight you can wear on your back as you walk. If you tend to take trips in the car, you can go for something bigger, where you can cram in everything and the kitchen sink.
And if you love long walks in the pram, you'll want to make sure your bag is easy to attach with stroller clips, detachable handles or a long strap, and that you have enough space in the basket underneath to store your nappy bag.
And remember that just because you're buying a dedicated changing bag, that definitely doesn't mean it has to look like one.
We went on the hunt for the best-looking, yet totally functional nappy bags that don't just let you cram in everything you need, but that look fantastic while you do so.
We included a range of styles, materials and colours to suit all budgets. So whether you love a tote bag, a backpack, a clutch or a compact crossbody, you'll find the changing bag for you in our roundup.
Best baby changing bags at a glance