Best dehumidifiers UK 2023: prevent damp and mould with reliable dehumidifiers from Russell Hobbs and Lakeland
Feeling comfortable and healthy in your home is incredibly important, and a dehumidifier can be a great way to improve your air quality and solve a whole host of breathing issues
Published 28th Sep 2021, 15:45 BST
Updated 29th Dec 2022, 13:28 BST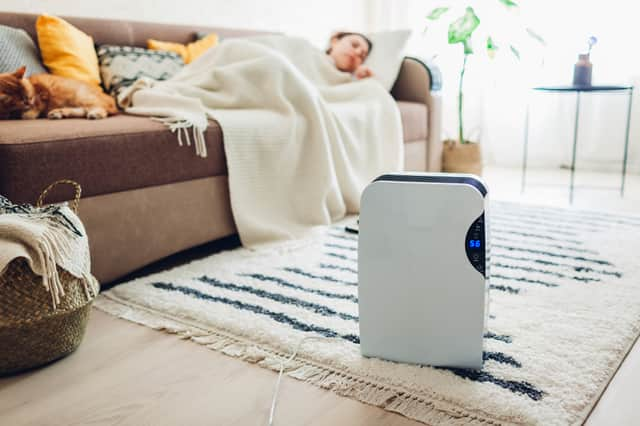 This article contains affiliate links. We may earn a small commission on items purchased through this article, but that does not affect our editorial judgement.
If your house has high humidity levels, this can be a perfect breeding ground for mould and dust mites, which can contribute to an increased risk of asthma or eczema. Too much humidity can also cause damp, mould and mildew, which can damage your home, and can lead to rooms smelling unpleasant or feeling stuffy.
What do dehumidifiers do?
Dehumidifiers work by removing moisture from the air and collecting it in a water tank. Depending on the machine, they can also collect dust and dirt in their filters. Depending on your dehumidifier, you can either then empty the water tank, or connect a hose for continuous drainage.
Removing the moisture and dust from the air makes the environment less appealing to dust mites and other unwanted pests in the home.
What are the benefits of a dehumidifier?
Using a dehumidifier isn't just useful for preventing allergies: it can also help your laundry to dry faster, and to help your home heat up faster. They're also inexpensive to run, making them a wallet-friendly addition to your home.
Are dehumidifiers energy efficient?
With regards to energy efficiency - a dehumidifier will help keep your house warmer in winter, as well as provide a more cost effective means of drying your washing in winter. They draw moisture and allergens away from wet clothes, speeding up drying time, but they are far more cost efficient than a tumble dryer - the average dehumidifier runs at around 40p an hour, while a tumble dryer positively chews through energy, running at an average cost of £1.55 an hour.
So which dehumidifier should you go for? First, take into account the size of your home and the rooms you'll be looking to dehumidify.
If you're on a budget and looking to remove the moisture out of a small room such as a home office or utility room, you can buy one on the smaller and cheaper end of the scale, while if you're looking for strong dehumidifying power throughout your home and have the space for a heavy duty machine, you'll want to invest a bit more in your device.
How can a dehumidifier help me look after my home?
A dehumidifier can help you and your home in different ways throughout the seasons. In winter, it can aid you with your laundry drying as it will take all the water out of the air when you have to dry your clothes in home. In the summer, it can make your house to feel less muggy because it will reduce the humidity.
Dehumidifiers also have an added health benefit; they can help allergy sufferers to manage their symptoms, as allergens, bacteria, dust mites, mould and more thrive in humid conditions.
Key signs it is time to consider a dehumidifier
Mould on walls, particularly in the ceiling or corners. Mould can spread and become toxic. This is particularly dangerous if you have respiratory issues
Mildew
Musty smells, particularly in closets
Condensation on your windows
Signs of water damage
Rotting wood.
We've included a range of dehumidifiers of all sizes, prices and styles, testing each one to suss out their moisture-removing qualities. Whatever your budget and your home's needs, we have the dehumidifier for you in our roundup.