Best dog food UK 2023: from raw, wet, to dry dog food, puppy to senior food, grain free and hypoallergenic
Whether you have a dog with a sensitive stomach, a puppy, an elder dog or a doggy on a diet, there's a premium dog food to suit your canine companion. Here are the best dog foods around.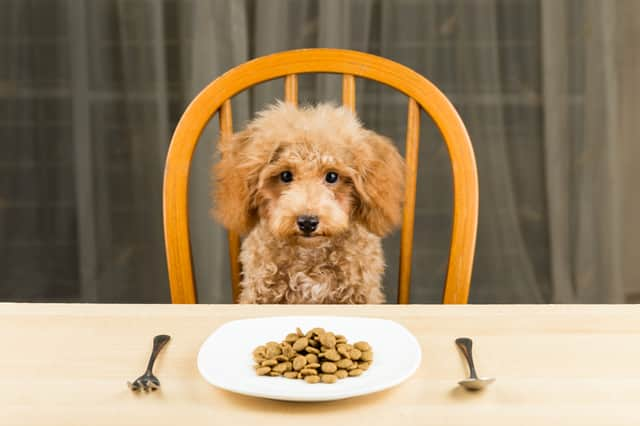 This article contains affiliate links. We may earn a small commission on items purchased through this article, but that does not affect our editorial judgement.
The temptation to spoil your dog with all manner of treats (and sneaky bites of your own dinner) is always high - after all, every good boy deserves great dog food. But just as we watch our own nutrition, and our families, we also have to keep an eye on our dog's diet, modulating it to match their age, activity levels, and (apologies) bowels.
There's a plethora of dog food available out there - not all of it is created equal. And while cheaper food is tempting, it can be a false economy: after all, there's few things more expensive than a dog with recurrent health problems. A good diet can prevent that.
So what should you be buying for your pup?
Dry, wet, or raw dog food: what is each for?
Dry dog food covers off biscuits, kibble, and pellets, whereas wet food tends to be tinned or in a pouch and comes in a gravy or jelly sauce. Raw dog food is predominantly meat, and often comes frozen.
Dry dog food is great for ensuring complete nutrition in one meal - less water means a high concentration of nutritionally rich ingredients. It's easier to store, lasts longer, and is less expensive than the other options.
Wet food is more appealing for most dogs thanks to its meaty chunks and gravy. Its high water content is great for older dogs, who need more hydration. It's less suitable for puppies, who need more nutrients in their foods.
A raw food diet is particularly good if you have a dog that has smelly flatulence - the switch to raw food is known to often put paid to this (let's be frank, disgusting) issue. Most raw dog food is 'complete' - that is, contains all the nutrients required for your dog in one meal. The catch - as you'd expect - is that raw food diets are usually pricey.
Dogs thrive on meat
Sorry about this - we're only too aware of the benefits of a vegan diet and why we should all be more plant-based for the sake of the planet. However, in terms of the nutritional requirements dogs have, they are far more easily met with meat proteins than plant proteins.
Dietary deficiencies in dogs can lead to disease and malnourishment, so this is important. In order to best ensure your canine friend's continued good health, try and keep a balance of animal and plant-derived proteins.
What to do if your dog is a food snob
We've all met them: those dogs that turn their muzzle up at the prospect of any new food stuff. If you need to alter their diet, though, the best way is to go slowly - small quantities of a new food is the way forward. Treat it as you would a toddler - don't cave in and give them something more palatable if they refuse your offering.
The best dog foods available