Best electric toothbrushes 2021: teeth-whitening toothbrushes from Oral-B, Phillips, Foreo and Colgate
They say you're never fully dressed without a smile, and a good electric toothbrush is key to getting those pearly whites sparkling. 
Published 17th Feb 2021, 09:28 BST
Updated 15th Sep 2021, 09:40 BST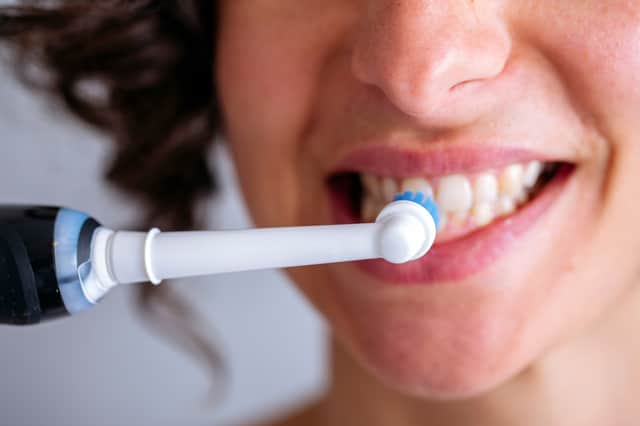 This article contains affiliate links. We may earn a small commission on items purchased through this article, but that does not affect our editorial judgement.
Unlike manuals, they do the lion's share of the brushing for you.
Oscillating models, such as those in Oral-B's range, have round heads that rotate to sweep plaque from your teeth and gums, whereas sonic toothbrushes, such as the Philips Sonicare models, have diamond-shaped heads that vibrate rapidly from side to side to drive bacteria out of every nook and cranny. Both can be very effective at cleaning, but sonics tend to be more expensive.
With so many electric toothbrushes on the market, we asked Steven Attwell, associate dentist at Bupa Dental Care, for his tips on how to choose yours. 
"I'd recommend looking for a model from a reputable manufacturer, rather than merely plumping for the most expensive option," he said. "Pricier electric toothbrushes tend to boast fancy features, such as Bluetooth connectivity to a smartphone app, but these are 'nice to have', rather than essential. The important thing is to choose a model that will effectively clean plaque, bacteria and debris from your teeth and gums."
That said, there were two features he did recommend, which most electric toothbrushes now offer as standard: pressure sensors and quadrant timers.
"Choose a toothbrush with a pressure sensor, which flashes or buzzes if you're brushing too vigorously," he said. "Brushing harder won't remove more plaque and can, in fact, damage your teeth and irritate your gums. 
"To ensure that your cleaning routine is thorough and even, look for a built-in quadrant timer, which flashes every 30 seconds when it's time to move onto the next quarter of your mouth."
There's an electric toothbrush for all needs and budgets in our top nine: