10 best backpacking tents UK 2023: one-person hiking tents that are lightweight and portable
Our top-rated backpacking tents are lightweight, portable and perfect for adventure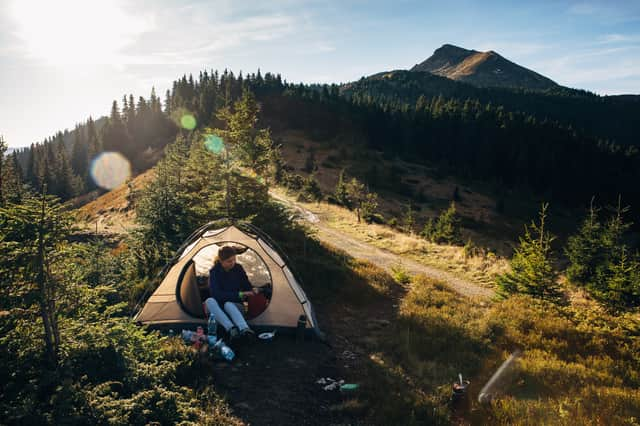 This article contains affiliate links. We may earn a small commission on items purchased through this article, but that does not affect our editorial judgement.
Not all tents are created equal – they range from huge family-friendly designs with as much space inside as a small cottage to light and portable one-person tents that can fit into a small rucksack.
Backpacking tents sit at the smallest end of the tent spectrum, and as the name suggests, are designed to be carried with you on your adventures – they're portable and compact enough to fit into backpacks or bike panniers, and are designed with hikers, wild campers, bike backpackers and anyone else covering long distances and setting up a new camp each evening in mind.
What size tent should I go for? 
You'll see tents sold according to the amount of people they can sleep - one-person tents really do only fit one, and you may still want to choose a two-person tent if you want extra space and comfort. Most two-person tents should fit two campers plus their backpacks, and while these are heavier, they can usually be divided up to share the weight.
What is the ideal weight for a hiking tent? 
Weight is at a premium on hiking and fastpacking adventures – after all, you have to carry all of your camping equipment with you. A one-person tent that weighs under two kilos or a two-person tent under four kilos is your best choice, although there are tents that weigh as little as 700g in our round-up.
Best backpacking tents at a glance:
Be aware: hiking tents are small
While getting a comfortable night's sleep is important, a backpacking tent isn't designed to be roomy like family or festival tents – many have low ceilings and limited space, as they're designed to just be used at night rather than as living space.
We recommend picking a tent you can at least sit up in, and tents with an outer sheet that can be pegged out to create a porch are also useful, offering extra storage space for your boots and other kit.
Make sure it will stay dry
Waterproofness is your other priority. The model you pick should be a 'twin skin' (a tent with an outer 'fly' layer as well as an inner tent) and feature a waterproof rain fly as well as a built-in nylon floor to stop water seeping in from the ground.
You'll see both rounder dome tents and narrower tunnel tents available - if you're planning on sleeping on exposed mountain sides, a dome-style tent is a good choice for better wind resistance, and guy ropes will further help you to secure the tent against high winds.
Get kitted out for your camping and backpacking adventures