9 best running shoes for men UK 2023
A new pair of trainers will help prevent injury, increase your speed, help your running stride to be more comfortable - On Cloud, Hoka, Salomon and Saucony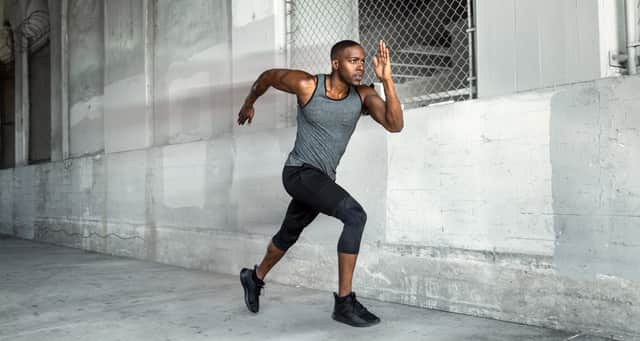 This article contains affiliate links. We may earn a small commission on items purchased through this article, but that does not affect our editorial judgement.
We've all done it: worn in our running shoes past their best, figuring they can last another season. But a new pair of trainers will help prevent injury, increase your speed, help your running stride to be more comfortable - not to mention look (and smell) better.
Here are the best running shoes on the market for men
What kind of running shoes do I need to buy?
This depends on the kind of running you will be doing, but look for weight and cushioning if you're running in urban environments a lot. 
Keep an eye out for different types of grip and 'lugs' (the little 'spikes' on the sole) if you're into the idea of trail running shoes and want to take your running on to less secure and more slippery ground. 
Why buy a new pair of running shoes?
Many people are running with shoes that are ill-fitting or do not offer the right amount of support for their style of running or the amount of running they're doing. A new pair, with enhanced technology and development, can improve comfort, running style and overall running performance, as well as limit the potential for injury after continued use. 
How much do I have to spend?
The good news is there are a large number of shoes out there that offer excellent performance for a modest price – many of the options we tested were around the £100 mark, which seems to be a bit of a benchmark for a high-performing shoe, but you can go lower. 
We suggest looking between the £80 - £140 price mark for a shoe that has been designed with good materials, a considered approach to running style and with hard-wearing credentials that mean you'll not be afraid of using them on a day-to-day basis.