Best wetsuits for women 2023 UK: surf or open-water swimming wetsuits
Get in the surf and have some fun with one of our top-rated women's wetsuits, including the best swimming and surfing suits for all seasons
Published 19th Feb 2021, 19:09 BST
Updated 5th Jun 2023, 15:59 BST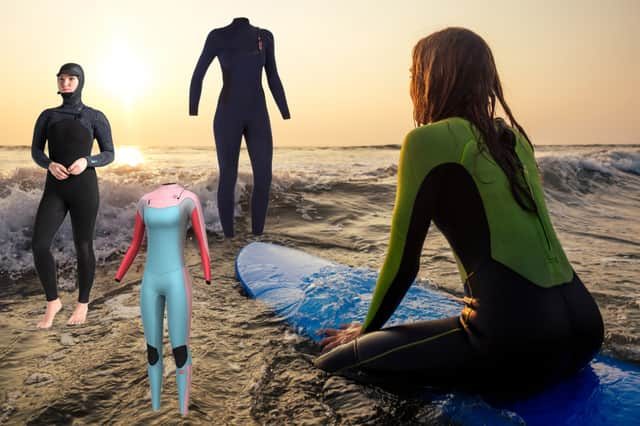 This article contains affiliate links. We may earn a small commission on items purchased through this article, but that does not affect our editorial judgement.
Love surfing or open water swimming all year round? A great wetsuit will help you stay warm and happy while exercising in your favourite element for longer.
Not all wetsuits are created equal – most are designed specifically with either surfers or open water swimmers in mind.
If you exclusively surf or swim, make sure you choose a suit designed specifically for your favourite sport.
What thickness of wetsuit do I need?
All wetsuits have panels of varying thicknesses of neoprene in different areas – surf wetsuits usually have thicker neoprene around the torso and thinner neoprene on the arms and legs, and you'll see a suit's neoprene thickness given in millimetres.
A 4/3mm wetsuit, for example, has 4mm of neoprene on the torso and 3mm on arms and legs, and a 5/4/3mm wetsuit has 5mm of neoprene on the torso, 4mm on the legs and 3mm on the arms.
Swimming wetsuits have thinner neoprene around the arms and armpits for ease of movement, and are cut differently to surf suits in order to reduce drag.
What wetsuit do I need for surfing?
If you're a surfer, you'll need to pick a wetsuit according to the season you plan to use it in. As a rough guide, you should choose a 6mm wetsuit for the coldest months of the year, 5mm and 4mm for the rest of winter, 4mm and 3mm for autumn and spring and a 2mm suit just for keeping the chill off in the summer, or for wear on tropical surf trips.
What wetsuit do I need for open water swimming?
Swimming wetsuits are designed to be quick and easy to pull on and off, to suit the needs of triathletes, who need to change on the fly. Surfing wetsuits either have a zip on the back or a chest zip (we prefer a chest zip, which we find keeps you warmer and offers better flexibility) or are even zip-free, and are cut to allow a wide stance on a board.
Swimming wetsuits are also less buoyant than surfing suits. If you like some protection in warmer months, you can pick a short-sleeve 'shortie' wetsuit for surfing or a sleeveless, full-leg suit for swimming, which allows the arms free movement.
Yes, but is it stylish?
Don't forget to consider looks and fit. We found fit varied greatly from brand to brand, and one medium wetsuit might fit you perfectly while another is too long or too loose. While most wetsuits are fully black (neoprene's base colour, which offers good UV resistance), some women's wetsuits also feature bright pops of colour.
What do I need to spend on a wetsuit?
Wetsuits aren't cheap – expect to pay between £100-£200 for a decent full-length design. The prime location for cheap wetsuits is Decathlon.
That said, if you can afford it, it's worth owning a few different wetsuits for different seasons and disciplines. If you're only buying one suit for casual swimming and surfing, a 4/3mm is probably your most versatile pick.
Look after your new wetsuit by rinsing in fresh water after wearing in the sea, and dry in a shady place.
Best women's wetsuits at a glance: