Best woks 2021: stir-fry with ease with the top wok pans to buy, including non-stick options
Undoubtedly, the deep bowl-like wok is the go-to pan for stir-frying. Here are the best modern iterations
Published 19th Aug 2021, 10:39 BST
Updated 20th Aug 2021, 09:41 BST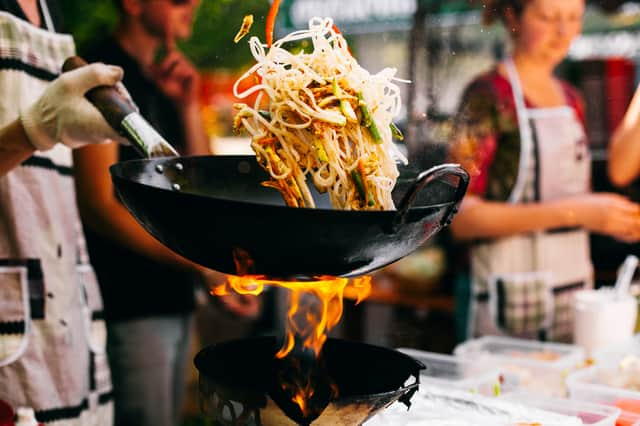 This article contains affiliate links. We may earn a small commission on items purchased through this article, but that does not affect our editorial judgement.
Traditionally made of cast iron for its excellent heat conductivity, it cooks food quickly and evenly (known as 'wok hei' or wok's breath), which is precisely what you want for a stir fry.
The 2021 wok is now constructed from many different materials, from carbon steel for even heating and aluminium for lightness.
The new-style wok now has added non-stick coatings and may have single handles, single with a grab handle for easier moving around, and many with two.
These less traditional woks have taken the versatility of this pan off the scale as they can double up as steamers, a deep frier and a sauté pan. As many are also oven-proof, they can be used as a casserole, all of which is hugely helpful if the kitchen space is small.
Though wok purists will always reach for cast iron and carbon steel, these pans need seasoning - oiled and heated - which prevents rusting and seals the pan's surface and prevents staining over time. With regular use and re-seasoning, the pan will develop an attractive natural patina on the surface.
Getting the best from your wok
Always follow the instructions from the manufacturer if a pan does need to be seasoned. If you are not inclined to nurture your wok this way, you will be better with one of the many non-stick or ceramic coated ones.
Avoid metal utensils unless the manufacturer says it is OK. The metal will damage the surface over time. Use wood or heat resistant silicone instead.
Heat a wok slowly and gradually bring it to heat; this is especially important when using induction.
Use your ingredients at room temperature to maximise the heat and speed of cooking in a wok.
Once cooking is over, never plunge a hot wok into hot or cold water as this can warp the pan and damage a non-stick coating if there is one.
Season regularly as recommended by the manufacturer.
A wok in the dishwasher is usually a no-no, but some manufacturers now say theirs can; a wok will quickly fill it. Usually, all woks need is to be wiped clean and, if required, washed with a bit of hot water and a few drops of washing up liquid.
Should you inadvertently burn the wok, put it on the stove, half fill with water, bring it to a boil for a few minutes and give it a flick round with a washing-up brush, and all should be fine.
How to choose a wok; a few questions you may want to consider
How many are you cooking for? If you need a large wok (30cm+), these will also be heavier.
What heat source are you using? Induction, electric and halogen hobs need a flat-bottomed wok.
Determine your budget as there are considerable differences in the price.
Do you want to use your wok for more than simply stir-frying? If so, maybe a two-handled wok or one with a lid will be better.