Best fire pits UK 2022: from charcoal and wood-fuelled to cast iron models, safe, long-lasting fire pit
Firepits are - forgive us - the hottest item for your garden this summer. These are the best
Published 19th Jul 2021, 15:52 BST
Updated 19th Jul 2022, 15:48 BST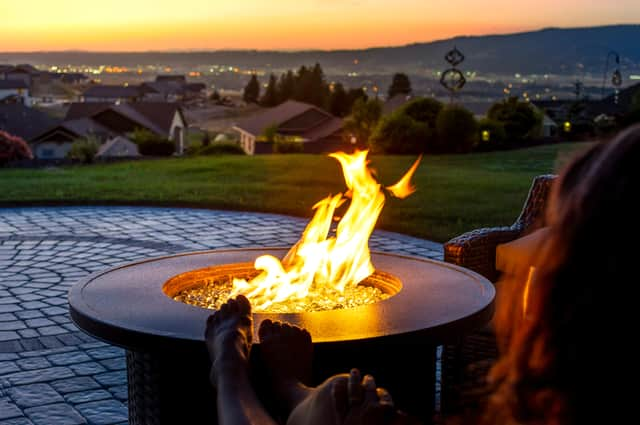 This article contains affiliate links. We may earn a small commission on items purchased through this article, but that does not affect our editorial judgement.
It won't have escaped anyone's attention how summery it's felt of late – hot weather, sunshine and balmy evenings means more time outdoors, mean outdoor fire pits have soared in popularity. They're ideal for congregating outdoors with family and friends, enjoying the warm glow of a flickering fire.
A garden fire pit is the ideal means of bringing the cosy glamour of camping to your back yard, without having to leave the comforts of home.
There are a number of different styles and shapes to suit budgets and sizes of gardens and outdoor spaces– we'll take a look at a few options here.
What to look for in a firepit
There are stainless steel, clay, or cast iron fire pit models, fuelled by either charcoal or wood. Wood offers the gorgeous smoky 'campfire' smell, and emit a warm, gorgeous light. Charcoal, however, are easier to light in our experience (an organic firelighter and you're good to go).
It's worth considering size as a defining factor, and where available we've put the dimensions below. How many people do you hope to warm using your fire pit – and what's the size of the space you're intending to put it?
If there's just two of you, a smaller option may suffice, but if you've got a larger outside space or hosting a bigger gathering, you may want to spend a bit more and invest in a more sizeable feature.
Material also plays a key role in determining the quality of the firepit. There are some budget options on this list that use conventional steel coated in a fire and weather resistant black paint. This is fine for occasional use, but you'll find that it doesn't weather as well over time.
We'd recommend looking to spend a bit more on a cast-iron firepit, that will naturally rust and change over time as it settles in – adding to the attractiveness of the piece and limiting how much maintenance you'll need to do.
Buy an additional cooking grill and you can roast marshmallows or cook your meats atop.