Family bragging rights and three points at stake as South Shields ace Phil Turnbull prepares to face a Morpeth Town side managed by twin brother Stephen
Tuesday night's meeting between twin brothers Phil and Stephen Turnbull will not be the first of their long and successful careers in non-league football.
Monday, 19th October 2020, 2:23 pm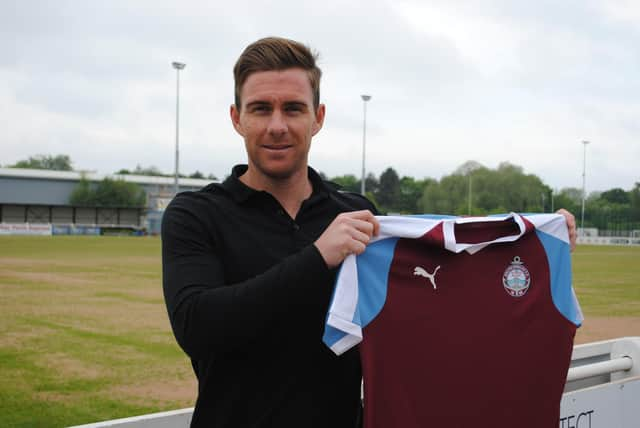 Phil Turnbull.
But there will be a slight difference from their past meetings when North East rivals South Shields and Morpeth Town face each other in an eagerly anticipated Northern Premier League clash.
The South Shields-born duo have been on opposing sides in the colours of Blyth Spartans, Gateshead and Darlington, but Tuesday night's meeting will be the first time that one of the brothers will take on the role as a manager.
Younger brother – by an hour, as Phil hastily pointed out in a group chat – Stephen stepped up as manager of Morpeth Town when Highwaymen stalwart Nicky Gray stepped down from the role during the summer.
The former Blyth Spartans midfielder has made a solid start to his managerial career with Morpeth unbeaten in their three league games under his control.
He also helped the Highwaymen see off City of Liverpool in the FA Cup, before exiting the competition after a brave defeat at National League North club Southport.
Phil is still a key part of the South Shields line-up and will head into Tuesday's game with one eye on Saturday's FA Cup fourth qualifying round tie against FC Halifax Town after the Mariners saw off the same side that had ended his brother's dreams of reaching the first round.
But despite their being a different dynamic to their next head-to-head, Turnbull senior insisted that both brothers will only have one thing on their mind at the 1st Cloud Arena on Tuesday night.
Stephen Turnbull in his Blyth Spartans days.
He told The Gazette: "We are both professionals, and I suppose for the night, we don't know each other and we don't like each other.
"He has to win for his team, I have to win for my team, it's that simple for us both.
"Bragging rights are there for the clubs, but also for us because we have always been competitive.
"With our friendship groups and things like that, if one of us wins, the other one will get hammered.
"But it's totally professional, we just want to win for our clubs.
"They'll want to win to keep the momentum they've had, and we want to win because it's at home and we need to bounce back after Saturday."
Stephen's move into the dugout at the relatively young age of 33 caught many people in the game by surprise.
Still a talented midfielder, he was expected to play a part in a Highwaymen squad that are more than capable of challenging for promotion into the National League North this season.
But now he is in charge of guiding their bid for a third promotion in four seasons – and his elder sibling wished him a limited amount of success over the course of the campaign as both sides look to challenge at the top end of the table.
He said: "I wasn't surprised he took the job, it's something that he has wanted, and I think he has been realistic.
"He would have only taken a job if he thought he could do something with the role.
"Ken Beattie (Morpeth Town chairman) is a very generous bloke; he backs his managers; they've always had really good players and Stephen couldn't really miss out on that opportunity when it was given to him.
"He's given it a go and he is doing it his way, he will take advice but he won't be scared to do things his way.
"He isn't following anyone else, hopefully he can be as successful as he can be, but maybe with us winning the league and Morpeth winning the play-offs."
Stephen's move into management does beg one important question for a rivalry that has gone from playing on the Playstation and kickabouts in the back garden to big FA Cup ties and rival bids for promotion.
Could we see the next step in the Turnbull vs Turnbull story as the two brothers go head to head as opposition managers?
Do not rule it out, says Phil.
"I would like to go into it at some point, but not just yet," he explained.
"You work your whole career as a player learning a craft, and then you want a chance to put your philosophy into a team as a manager or a coach.
"I know from speaking to Stephen that it's more demanding than it was during his time as a player.
"As a player, you turn up and you follow instruction, then you go out and try and do your thing on the pitch for 90 minutes.
"But as a manager, you think about it more, you cannot get away from it even after training or matchday, it's all on you.
"It's impossible to switch off, but it's still something I'd like to try at some point."