Hebburn Town pushing for fans to be allowed into Wembley final
Hebburn Town have confirmed that they remain in communication with the Football Association and the Government's Department of Culture, Media and Sport in a bid to allow supporters to attend their FA Vase Final meeting with Consett.
27th Mar 2021, 11:11am
- 2 min read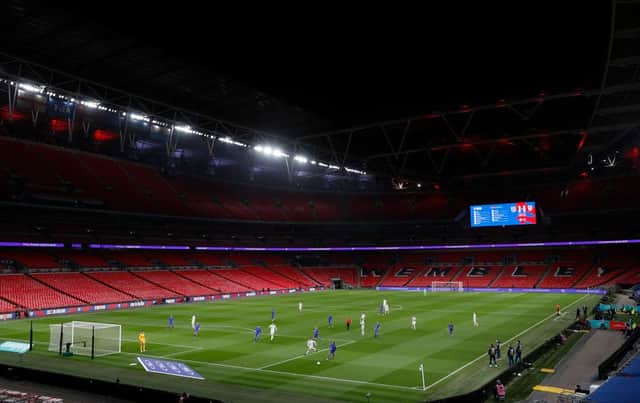 Wembley Stadium.
The Northern League rivals are set to meet at Wembley Stadium on Monday 3rd May as part of the annual Non-League Finals Day.
However, in a blow for supporters of the North East duo and FA Trophy finalists Concord Rangers and Harrogate Town, the FA announced that both fixtures will take place behind closed doors.
The news that the FA Cup semi-finals, the Carabao Cup Final and the FA Cup Final have been identified as possible test events for the return of supporters has only increased the anguish over the decision to hold the Vase Final in front of empty stands at the home of football.
Jarrow MP Kate Osbourne raised the matter in the House of Commons last week and has been supportive of the North East clubs as they push for their own supporters to be allowed to attend the historic fixture.
Hebburn released a statement on Friday evening to announce that they are lobbying both the FA and the government on a daily basis in a bid to get the decision overturned.
The statement in full read: "The football club want to reach out to our fans and fellow non-league supporters to keep you up to date on ongoing scenario/situation that we find ourselves regarding spectators and our FA Vase Final on Monday 3rd May 2021.
From the day we found out about the final being scheduled we have been hugely disappointed that our loyal fans couldn't join the players, staff and officials on this momentous occasion for the club.
Since being notified about the fixture the FA have subsequently released further information about "Stadia Fan Test Events" involving Elite status teams as follows
FA Cup Semi-Final @ Wembley Stadium
Saturday 17th/Sunday 18th April
4,000 Spectators allowed.
Carabao Cup Final @ Wembley Stadium
8,000 spectators allowed.
FA Cup Final @ Wembley Stadium
20,000 spectators allowed.
As a result, the club have lobbied the FA, Government and Department of Culture Media & Sport (DCMS) on a daily basis on behalf of our fans and wider non-league family to allow Non-League Finals Day on Monday 3rd May (sandwiched between the fixtures above) to be opened as a "Stadia Fans Test Event" allowing everyone the opportunity to be part of and enjoy this great occasion.
We'll continue to work hard behind the scenes to do all we can to get fans allowed at the event and as soon as we receive any update or confirmation, we will share with you all.
In the meantime, let's keep our fingers and toes crossed for a good outcome for all.
We'd like to thank fellow Non-league Finals day clubs Consett AFC, Concord Rangers FC and Harrogate Town FC for the joint support in attempting to make a difference.
We'd also like to thank our local MP Kate Osbourne who has spoken in the House of Commons and raised the relevant letters to government departments including the Prime Minister to push for a satisfactory resolution."