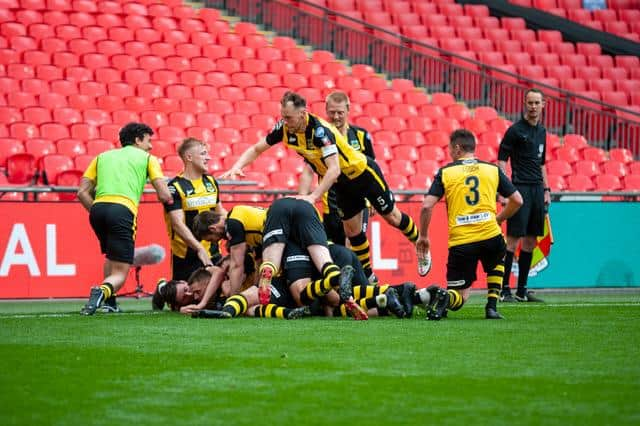 Hebburn Town manager Kevin Bolam reviews 2021. Pic by Richard Waugh.
A successful first visit to Wembley Stadium, a historic promotion into the Northern Premier League and a whole host of off-field developments means the club is unrecognisable from the one that almost went under just four years ago.
But for Bolam, the focus is on the future, on what comes next, and on delivering the next stage in the development of a club that is close to his heart.
There is a pause, some gentle persuasion, and finally the memories of a game-changing 2021 begin to flow - starting with that long-awaited and much-delayed FA Vase Final date with then-Northern League rivals Consett.
The two sides produced a remarkable advert for the North East game as Olly Martin's late strike helped the Hornets to a 3-2 win and ensured they became the tenth different club to bring the Vase back to the region.
Bolam reflected: "You wondered if it was going to happen during Covid and the delays made you nervous the lads wouldn't get their big day out at Wembley.
"The FA kept in touch with us about rearranging the final and they kept saying the focus was to get it played.
"When the final came, to win, in a cracking game against a top side, was a real honour.
"I'd only been in the job for a few months so it was a dream to experience all of that, it was a day we will never forget.
"The journey to Wembley, picking the team, the togetherness, being in the dressing room, it was all just a dream and I miss the Vase - but the memories will never fade."
One key player that missed out at Wembley was striker Cedwyn Scott.
The former Dunston UTS and Berwick Rangers frontman had attracted serious interest after plundering his way to 22 goals in 16 appearances for Bolam's side.
A four-week trial with Premier League giants Newcastle United led to nothing and the likes of Sunderland, Peterborough United and Morecambe all showed interest without making an official move.
Scott secured a short-term deal with League Two side Carlisle United and went on to become a key part of Gateshead's push for promotion into the National League after making a summer switch to the International Stadium.
Bolam believes the striker can still make a career at Football League level but believes he has found a home at Gateshead.
"We tried to manage the move so Cedwyn could be available for Wembley but it was then or never for him.
"You can't take the opportunity away and you can't advise anything other than to take it.
"I still think he can play in the Football League, he's got everything off the pitch to go with his talent on the pitch.
"He was unlucky at Carlisle and he is now at a club at Gateshead where he feels at home, he is in form, scoring goals and hopefully just the start."
Despite Scott's absence, Hebburn went on to secure promotion into the Northern Premier League for the first time in their history.
The elevation into step four of the non-league system was far from conventional as the Hornets were promoted alongside Stockton Town and Shildon as part of the Football Association's restructure of the pyramid.
"There was absolute pride, so much pride.
"That group of players refused to get beaten and we had leaders throughout the side, they were massive for us.
"When you have lads like that, you knew you wouldn't be far away.
"We felt we were promoted on merit and it was a fantastic period of time, we were on the crest of a wave and promotion was a fantastic achievement.
"Nobody can take the success we have brought to the club away from us, but you also can't take it for granted."
Preparations for a historic season were far from straightforward.
The retirement of prolific striker Graeme Armstrong left a gaping hole in Bolam's squad and that blow was quickly followed by Vase-winning captain Louis Storey's move to Gateshead.
Further bad news followed when experienced duo Darren Lough and Michael McKeown sustained injuries that have likely ruled them out of the entire campaign.
"We knew Graeme was going to call it a day when the Vase run finished and it was an emotional day after the defeat at Warrington Rylands.
"People like him don't come around very often and I think he would be in double figures if we had him in our side now.
"When Louis' move came about, we wanted that to happen for him, to test himself at a higher level and go full-time.
"He is an absolute leader of men, he leads by example on and off the pitch as to how he has done.
"Losing Darren Lough and Michael McKeown to long-term injury hurt us even more.
"We knew Michael's injury was bad as soon as it happened because he doesn't stay down and doesn't react the way he did.
"It killed us and then you lose someone like Darren, and then getting the Gilmore's groin diagnosis and Covid delaying any operation, that hurt us too.
Injuries and inconsistency have hampered Hebburn's attempts to establish themselves in the top half of a new look East Division.
But there are signs of life after wins against Frickley Athletic and North East rivals Dunston UTS have sent the Hornets into 2022 on a positive and they currently lie just three points shy of the top eight.
Lessons have been learnt and hopes are high for the new year and beyond.
"I think I have learnt a lot over the season so far," explained Bolam.
"There are plans and actions in place, we want to move forward, we have to secure our place in the league first and foremost."