Alexander Isak provides Newcastle United fitness update and responds to Eddie Howe comments
Alexander Isak was back in the starting line-up and back amongst the goals as Newcastle United beat Wolverhampton Wanderers 2-1 at St James' Park on Sunday.
Isak's first half header was his fourth goal in only his sixth Premier League start for Newcastle as he helped his side to a fist win in six top flight matches. Hwang Hee-Chan cancelled out the 23-year-old's goal before substitute Miguel Almiron secured three points with his 11th goal of the season in the closing stages.
"I enjoyed being back on the scoresheet in front of our fans, it was a great feeling," Isak said afterwards. "I'm not very used to scoring headers. It's an area I can improve so that was a good one.
"We've played well but as everyone knows, that ball hasn't wanted to be in the back of the nets so we showed great character. Even after they scored to get back and be able to score the goal.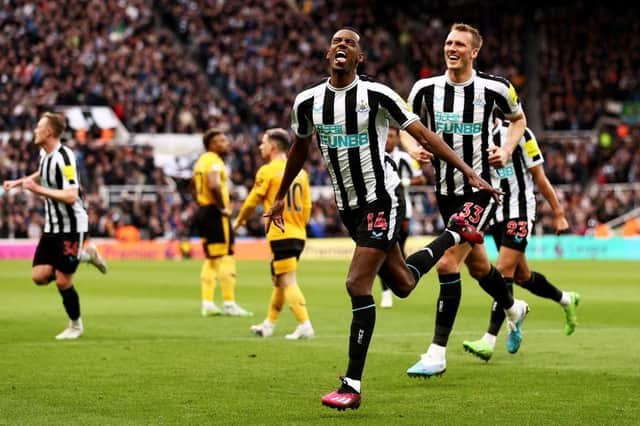 "First half we played really well and could have scored three or four. We created a lot and were a constant threat."
Ahead of the match, Magpies boss Eddie Howe suggested that Isak's fitness wasn't quite at the level to play 90 minutes for his side at the moment before clarifying his comments afterwards.
"He's fit to play 90 minutes for another team, so there's no concern over his fitness," said Howe.
"I need to clear this up. It's fit to play 90 minutes how I want him to play – and how I demand from my players. That's no slight on him. That's just him adjusting to the league – and to my style of play.
"So he's very, very fit. He's got a little bit more to go to be 90-minute fit for us, but that's because we demand so much from our players. That's no slight on him at all.
"The plan today was run yourself into the ground, until you can no longer run. He put his hand up, and said 'that's me done'. That's the type of performance I want from him."
And when asked what he made of Howe's comments, Isak replied: "I don't know. Obviously I think I can get fitter but you don't always have to play 90 minutes.
"I played almost 70 minutes, emptied myself and sometimes that's enough then you've got fresh legs and fresh players to come in and make an impact like they did. It's something we have in this team which is really important for us."
Isak missed the majority of the first half of the season due to a serious thigh injury and is yet to get a consistent run of matches since his club record £63million move in the summer.
"No [concern about injury], I feel confident and I think I can get fitter but I feel fit and I feel good when I'm out there and I'm not having any troubles," he added "But I'll just keep on working."
Isak continued: "The intensity [in the Premier League] is tough but I enjoy it. I enjoy it way more like this intense and everything goes quick and this type of football where you have more actions for yourself as well. It's hard work and it's tough but I really enjoy it."