'Announce. The. Takeover': Newcastle United fans react angrily to Manchester City defeat - and call for Premier League decision
Newcastle United's 5-0 defeat to Manchester City has left fans seething with their team's performance as Steve Bruce's men suffered their first defeat of the season restart.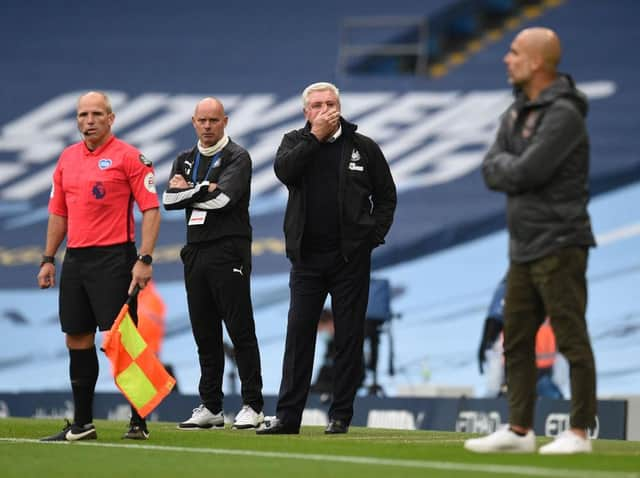 (Photo by Oli Scarff/Pool viaGetty Images)
A number of fans have angrily taken to social media to react to the 5-0 drubbing – scroll below to see just some of the reactions:
@jchaytor16: Cant blame bruce for individual errors, but we can blame him for the team selection and tactics. He got it completely wrong tonight.
@IfRafaGoesWeGoL This is not a "fantastic" season. This is Ashley's Newcastle United FC. Announce. The. Takeover.
@NUFC360: Every single one on that pitch deserves every ounce of criticism that comes their way tonight. An embarrassment. #nufc
@danjpeg: Without Allan and Miggy we are literally nothing. Hopefully both back on Saturday. #NUFC
@Toontruth1: One of the most shameful performances I have ever witnessed by a toon team. A disgrace from start to finish.
@_ConnorJameson: Embarrassing selection, embarrassing performance from minute 1.
@pandas_drunk: Only takes one game to bring a team back down to earth. Was never to intention to compete with second place. Keep calm and carry on.
@CratesOfFrates: It looked like we were playing a different sport.
@dobo371986: 14th in the league. Is this good enough? I remember the days of Keegan, Robson, Shearer, Ginola etc. Sadly my kids don't. This is why we need #NUFCTakeover.
@thetruestorey: To be fair, we only conceded 1 more than Liverpool...... Get this #NUFCTakeover sorted.