'Brucey knows best!' Newcastle fans back Steve Bruce despite fitness concerns ahead of Aston Villa clash
Newcastle have named an unchanged side for this evening's Premier League meeting with Aston Villa – despite concerns over a congested fixture list and Sunday's FA Cup meeting with Manchester City.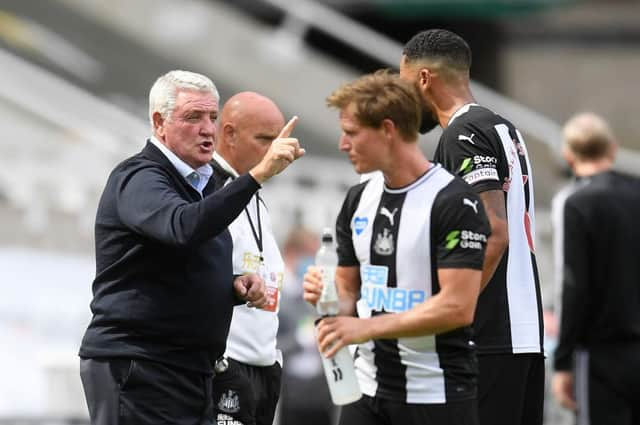 The Magpies comfortably beat Sheffield United three days ago after over three months without a competitive game due to the coronavirus pandemic.
Yet despite some fitness concerns and the blistering heat at St James' Park, many supporters think Bruce has made the right call by sticking with the same starting XI.
Here's how some fans reacted to the news on social media:
@CapCityBullies: Love it. May have swapped out Rose- but hopefully he has practiced passing to his own team in the last few days.
@NUFCR2: I think they'll be fine, I'm pretty sure Bruce has already commented on their fitness, plus we have water breaks and 5 subs to use (look at that beautiful bench as well)
@JCP4291: Same team to play Villa, thought he would rest a couple like, make a few impact subs midway through 2nd half but Brucey knows best! Lets get another nail in the coffin of Villa!
@J_Fos95: Glad Bruce hasn't changed the team. With 5 substitutions available it's a great opportunity to get more match fit, then taking off some of the key players later in the game with Sunday in mind.
@DANGERUS_DAVEY: Big Joe's gana bag another goal the day, must be a relief knowing there's nobody there to boo him again
@xOliverMiller: I reckon our players have been in top shape in lockdown, no changes is mental
@CharIieBennett: Very surprised that we are unchanged from the weekend. Sheff Utd played Villa a few days before us & looked knackered after 20mins. Thought Bruce would rest a few especially with a massive cup game on Sunday! He knows better than me & I still believe we'll win
@AaronRook91: Looking forward to the multiple injuries for the FA cup game
@eishariaz13: Lazaro and Schar would've been better but good lineup
@laurence_1999: Makes sense to keep the same team from Sunday but just hope that the fact that this is our second game in four days after so long out doesn't affect us badly