Dominic Raab gives latest Government view on Newcastle United takeover
Dominic Raab has given the Government's view on the proposed takeover of Newcastle United.
The Premier League is considering a £300million deal which is 80% funded by Saudi Arabia's Public Investment Fund.
There have been a number of objections to the deal, notably from beIN Sports and Amnesty International, and the takeover has seen the club dragged into the geopolitical dispute between Qatar and Saudi Arabia.
Raab, however, says the Government "welcomes investment into football in this country" so long as due process is followed.
Asked about the takeover by Kay Burley on Sky News, the foreign secretary said: "There's a proper process that we've got in place to look at everything from the competition aspects to other questions of propriety.
"I think it's right that that legal due process, with all its safeguards that it's got in place, is followed. We have this debate about takeovers in this country, and I think we should follow the rule of law."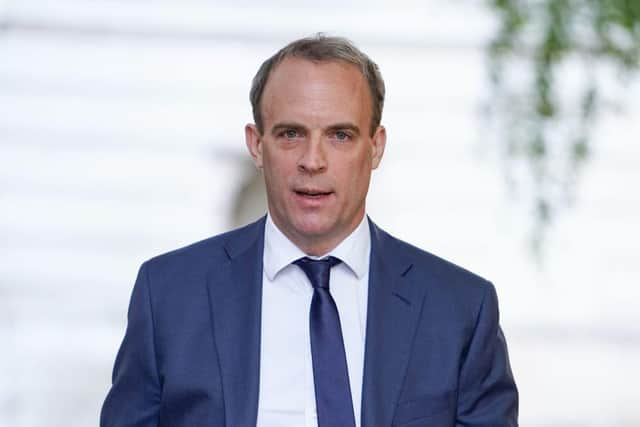 Raab went on: "We had the same debate in relation to (Roman) Abramovich and Chelsea. I think it's right that we welcome engagement, investment into football in this country.
"Everyone's pleased to see the Premier League back up and running, and also that there are legal safeguards to make sure it's done the proper way.
"This country is an open, outward-looking country. We've got investment from all around the world, but we do need safeguards in place.
"We've seen that in relation to 5G, takeovers that national security and other questions of propriety are properly scrutinised.
"We've got the due process and laws in place to do that. We have to trust the institutions we've got to deliver that."