Eddie Howe drops big Newcastle United hint on Allan Saint-Maximin – after 'massive' blow
Allan Saint-Maximin's been put on standby to start his first Premier League game in more than five months.
And Saint-Maximin – who hasn't started a league game since scoring in a 1-1 draw against Wolverhampton Wanderers at Molineux on August 28 – is a contender to start in place of Guimaraes, who will be back for the Carabao Cup final on February 26.
"Allan's been very good," said United's head coach. "He's understood, I think, the difficult situation that I've found myself in where I've kept a very consistent team, because the team's performed at a very high level. Results have been very good.
"I think he's understood, but he's also been very keen to show his talent and his worth from the off, so this is potentially, with Bruno's suspension, an opportunity for Allan amongst other players.
"I back his quality. I love him as a footballer and as a person. He's a huge player for us, and he's going to be massive between now and the end of the season."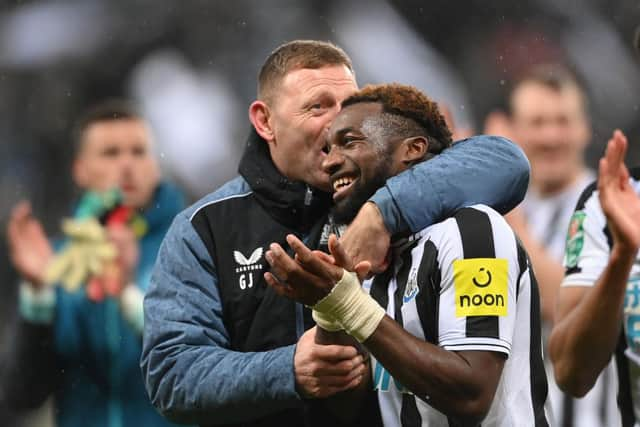 Howe can foresee Saint-Maximin, 25, playing a significant role on the pitch for the third-placed club over the coming months.
"It's (second half of season) going to be huge for him, personally – and huge for us that we get him in the best possible place to play," said Howe.
"Physically, I think he's in a good place now, probably the best he's been since his injury.
"It was a difficult injury for him, because he didn't just injure his hamstring once, he injured it twice. So that really did delay his comeback.
"I do think he's looked really good from the bench in recent weeks, and hopefully that has helped his confidence levels so that he can play a different role for us.
"There's competition for places, and that's what we need in every position, because you know that one bad game or a couple of bad games can leave you out of the team and give someone an opportunity to take your place. Hopefully, that will help us in what will be a congested second half of the season."
The key, for Howe, is to get the ball to Saint-Maximin in the right areas.
"There'll be no better player at doing what Allan does well in the league, in my opinion," said Howe. "You can never force a player to play like someone else.
"Allan's unique, but we just need to make sure we see his strengths, and that comes down to the team giving him the ball in the right areas, and then Allan executing what he needs to do."
Guimaraes, meanwhile, was sent off after catching Southampton substitute Sam Edozie with a late challenge.
"We're going to miss him massively," said Howe. "I think he's a huge player. Whenever you lose one player, you have to readjust. It's an opportunity for the team to regroup, and find another way."