Eddie Howe makes surprise Newcastle United VAR claim after what he witnessed against Bournemouth
The lack of VAR in the Carabao Cup almost proved costly for Newcastle United against Bournemouth on Tuesday night.
Newcastle thought they'd taken the lead in the first half as Callum Wilson slotted the ball in past his former club. The offside flag was eventually raised with Joe Willock deemed to have been interfering with play.
But upon closer inspection, Willock was actually onside and the goal should have stood. Had it been a Premier League game with VAR in use, Wilson would have opened the scoring.
The Magpies also had a second half penalty shout turned down by referee John Brooks after Bruno Guimaraes' effort appeared to hit the arm of Chris Mepham. Ultimately, United won the match 1-0 thanks to an Adam Smith own goal in the second half.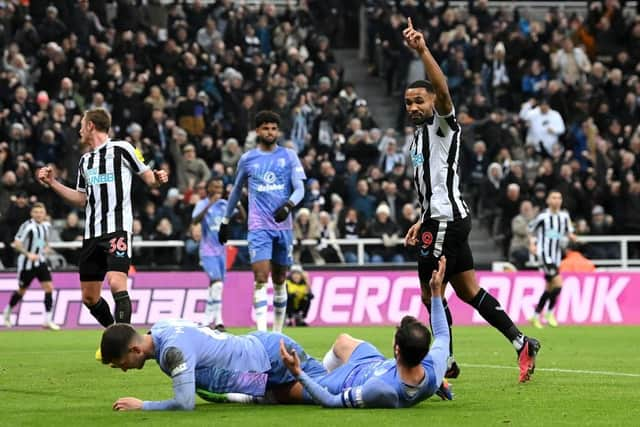 Newcastle have been on the receiving end of several controversial VAR calls in the Premier League so far this season but actually benefited from it when they hosted The Cherries back in September.
United came from behind to draw 1-1 with Bournemouth thanks to an Alexander Isak penalty that was awarded by VAR.
Following Tuesday night's win, Newcastle head coach Eddie Howe admitted he was 'disappointed' not to see VAR in use as the two Premier League sides went head to head.
"I was unsure [if it was a goal]," Howe said regarding Wilson's disallowed strike. "I had no idea and we didn't have a view of it, we didn't know at half-time.
"I've been a bit critical of VAR, especially initially, I didn't want to change the fabric of how we play the game but when you see an incident like that, I'm a bit disappointed that it wasn't in use."
Having made it to the quarter-final stage, Newcastle will have to go another step further to the semi-final in order to see the introduction of VAR in the competition.
"I don't think we were at our fluent best but I don't think we were going to be given the build-up to the game," Howe said as his side returned to competitive action.
"We had to be patient, we had to work and keep doing the right things which I think we did without being at our best tonight. I think the game will do us the world of good for what's ahead."