Eddie Howe names Newcastle United player he 'let off the leash'
Newcastle United did some extraordinary business in last January's transfer window.
Kieran Trippier, Dan Burn, Chris Wood and Matt Targett have all made big contributions since moving to St James's Park a year ago when the club was fighting to stay in the Premier League.
And Howe spoke about the impact the Brazil international has made – on and off the pitch – ahead of this afternoon's home game against Fulham.
"He's had an incredible impact on the team and off the pitch as well, it's not just on it," said United's head coach. "He has embraced everything about Newcastle.
"You can see a few situations, the goals he has scored, the celebrations he has given the supporters, the tackle against Leicester and the way he reacted. He's a passionate guy, he wanted to win and do well right from the first minute he turned up.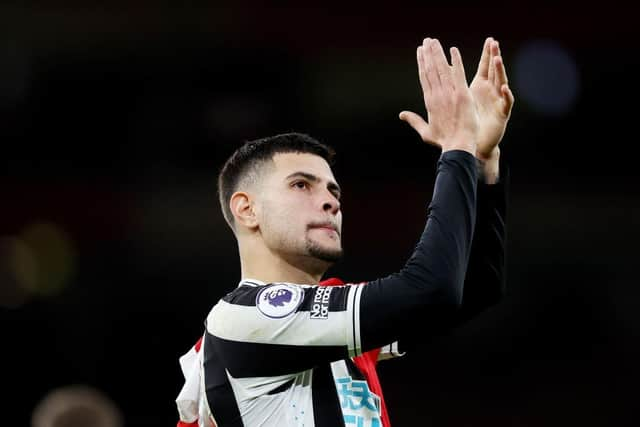 "Hes really bought into trying to learn English, and I can't speak highly enough of the way he has tried to adapt to Newcastle – on and off the pitch."
Howe held Guimaraes back while he adjusted to the demands of English football – and he was finally "let off the leash" at the St Mary's Stadium, where he scored with a stunning flick in a 2-1 win.
"He took a while to get into the team, and, from his perspective, he was very keen to show everyone what he can do," said Howe.
"We held him back – and thought it was the right thing to do.
"We let him off the leash – and he hasn't looked back from that moment. He has scored some vital goals for us, and the players really like him, which is hugely important.
"He's very much part of the team, he's not bigger than the team, and when you have a player with his profile, that's hugely important for me."