'He's got away with one' - Sky Sports pundit agrees with Newcastle United fans on controversial incident at Manchester United
Sky Sports pundit Sue Smith believes Newcastle United should have been awarded a penalty in the opening stages against Manchester United.
Monday, 22nd February 2021, 12:45 pm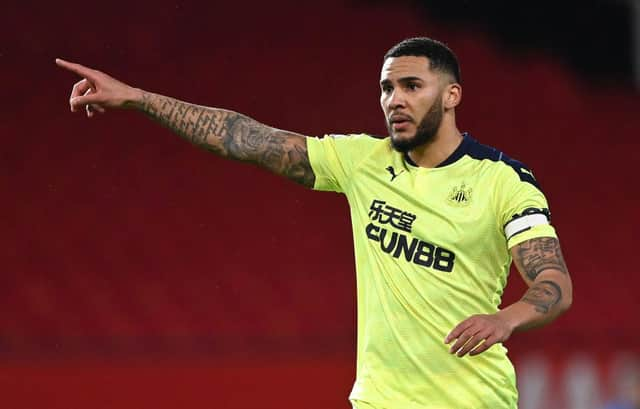 Newcastle United captain Jamaal Lascelles (Photo by Stu Forster/Getty Images)
Former Premier League referee Dermot Gallagher, Stephen Warnock and Smith were discussing the incident that saw Jamaal Lascelles fall to the ground after being caught by the arm of Harry Maguire.
"I didn't actually see this in the game and watching it again, it's a little bit naughty from Harry Maguire," former England winger Smith told Ref Watch.
"Yes, as a defender, I know you put your arms out to see where the attacker is but it's the fact he looks at him first and gets the connection.
"I think he's got away with one there."
Gallagher then explained why VAR took no action against the Red Devils captain.
"I think the defender is blocking off," he said. "The ball is played in and the goalkeeper's challenged – that's what the referee is focusing on.
"The VAR in play actually checked that incident and felt the same that Maguire was blocking off Lascelles, as players do in the penalty area and said play on and I think that's the right decision."
Had VAR awarded a penalty, Steve Bruce's men would have had the opportunity to go 1-0 up at Old Trafford.
Instead, Marcus Rashford went on to open the scoring for the hosts before Allan Saint-Maximin equalised during the first-half.
Goals from Dan James and a Bruno Fernandes penalty – which Gallagher, Warnock and Smith agreed was the correct call – inflicted an eighth defeat in 10 for relegation threatened Newcastle.