Inexcusable but predictable indecision is slowly killing the prospect of a brighter future for Newcastle United – Liam Kennedy's Magpies analysis
A point gained, temporarily, turned into three lost within a matter of hours for Newcastle United on Sunday afternoon.
Monday, 8th March 2021, 12:30 pm
From extending their gap to third-bottom Fulham to four points with a dull, battling draw at 19th-placed West Bromwich Albion by 2pm to come 4pm seeing that gap all but dissolve. It now sits at just one point, due in no small part to the Cottagers' remarkable away day win at Premier League champions Liverpool.
Was March 7 the day Newcastle United fans will look back on come the summer as the day it all went wrong, or can they still wrestle a survival attempt from the jaws of seemingly certain relegation?
Here's Liam Kennedy's take on the situation at Newcastle United, following the 0-0 Hawthorns draw.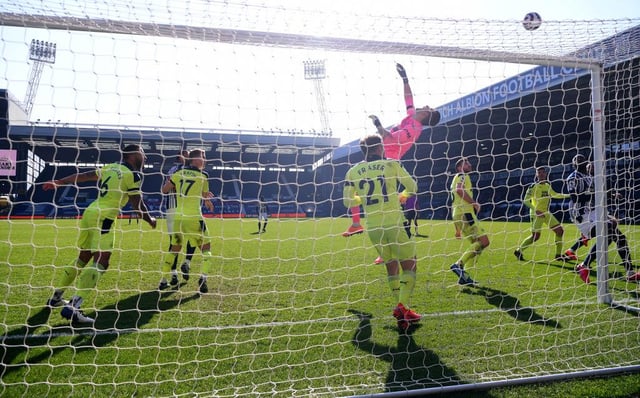 Martin Dubravka of Newcastle United tips a shot over the bar during the Premier League match between West Bromwich Albion and Newcastle United at The Hawthorns on March 07, 2021 in West Bromwich, England. Sporting stadiums around the UK remain under strict restrictions due to the Coronavirus Pandemic as Government social distancing laws prohibit fans inside venues resulting in games being played behind closed doors. (Photo by Gareth Copley/Getty Images)
Old habits die hard with Newcastle United decision-makers
The Magpies decision-makers have a call to make on the future of Steve Bruce. Every week we seem to be talking about the same thing.
There is a negativity about the club while Bruce remains – it hangs like a bad smell.
One win changes the mood, but the negative undercurrent remains, waiting for its opportunity to return. With Bruce's Newcastle it never has to wait long for its next moment to fester.
Fans have felt it for a long time, the media too. And last week it was revealed the players have been harbouring for a change as well – confirming the rumours most already knew.
Bruce has very few friends left at Newcastle United and he is yet to prove he has the skills to get the Magpies out of their current predicament.
If Bruce remains it's hard to see him bucking the trend he has set – a one stuck pedal to the metal, at break-neck speed towards a third relegation in Ashley's ownership.
Take Bruce out the equation and they might just stand a chance.
People say it is too late and I do agree with that sentiment somewhat – but while United are still ahead of the bottom three it is never really too late to change.
I'm sure the decline can be arrested, but I have no confidence Bruce is the man to do it.
Lee Charnley, Justin Barnes and Mike Ashley cannot simply adopt the 'fingers in ears' approach. This problem is not going away, no matter how loud you shout 'I'm not listening'.
Relegation is curtains for takeover talk
There has been plenty of talk about whether a takeover would go ahead if Newcastle drop out the division.
Interestingly, I asked the Premier League this question on Friday – what would happen to arbitration and the ODT tests, if Newcastle dropped and issues were unresolved?
Their answer? 'We don't know'.
For me, the PCP Consortium deal becomes obsolete in the event of relegation. Yes, PCP still want to buy Newcastle, of that there is no doubt, but there would definitely be question marks about whether PIF would want in. A second division club is not the kind of sporting crown jewel to announce yourself on the world stage a Premier League one is. Remember the sportswashing arguments from last year? Yes, they still apply.
The elephant in the room is the man who has caused this mess – Ashley.
There's a lot of flawed logic in Ashley's Newcastle model. One of the biggest is the idea that bouncing back up to the top flight following relegation is a certainty.
Twice previously United have done this under his watch. But this time it is different – there is no squad of surprising quality (2010) or world class manager (2017).
So, back to the deal. I am sure Ashley may well gamble again, if Newcastle do go.
Why drop £100m minimum off the asking price, if you can interest free loan the club £25-30m to fund a promotion and within a year command the same asking price you did previously?
It may turn out to be willing buyer, no longer willing seller. Unless, of course the consortium, or others, want to overpay for a Championship club.
Play to win – it is the only way
This is all hypothetical but let's run you through a scenario, just for the fun of it.
Newcastle United are going to Anfield, to play Liverpool who have lost five home games on the bounce.
Do they win? My guess is no. The narrative is then the idea of the Reds losing six in a row as 'unthinkable'.
Rubbish. Fulham have shown that in this lockdown leveller version of the Premier League anything is possible.
United are the problem. They haven't produced a creditable result against any of the top sides in lockdown – and it's down to mentality. We're beaten before a ball is kicked.
It has to change. Fulham have adjusted with a lesser group of players – they'd snap your hand off for Dwight Gayle by the way – Bruce must follow suit.
Baffling changes make you question Bruce – AND Jones
Dwight Gayle's introduction on Sunday was confusing – and caused more confusion than clarity.
He came on in the Miguel Almiron role but again looked ill-suited.
It also seemed to coincide with an inexplicable switch of Isaac Hayden out to the left wing.
All of this was baffling, and further disjointed an already ineffectual United.
Graeme Jones and Bruce must carry the can for this.
It's still in Newcastle's hands – just
It is easy to forget but United are still in the driving seat in the relegation fight, even if it feels like they're trying to steer with their feet instead of their hands.
They have a game in hand on Fulham (who play a smarting Manchester City) – and Burnley for that matter – and play before their rivals on Friday night.
Again, it comes down to doing your own business. Beat Aston Villa and the gap could reopen. Defeat or draw and the gate is wide open again.
A message from the Football Clubs Editor
Our aim is to provide you with the best, most up-to-date and most informative Newcastle United coverage 365 days a year.
This depth of coverage costs, so to help us maintain the high-quality reporting that you are used to, please consider taking out a subscription; sign up here.
Your support is much appreciated. Richard Mennear, Football Clubs Editor