Influential, inconsistent Shelvey & too late for Lazaro? Liam Kennedy's SEVEN Newcastle United takeaways
Another loss for Newcastle United, but a slightly improved performance? Well, yes if you forget about the defending.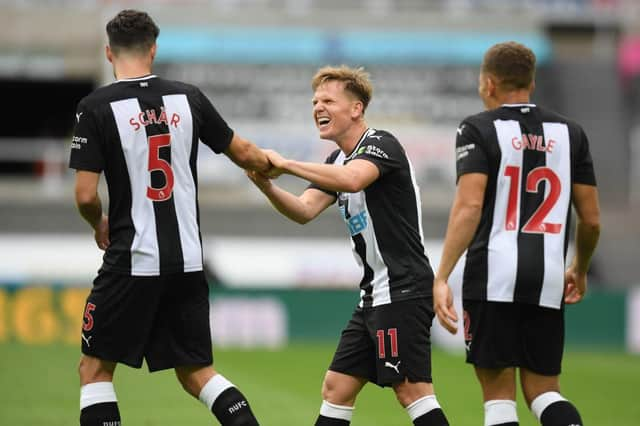 Newcastle United's Scottish midfielder Matt Ritchie (C) celebrates with Newcastle United's Swiss defender Fabian Schar (L) after scoring their first goal during the English Premier League football match between Newcastle United and Tottenham Hotspur at St James' Park in Newcastle-upon-Tyne, north-east England on July 15, 2020.
Spurs ran out deserved winners in the end but maybe the 3-1 was a touch kind to Jose Mourinho & Co, with the Portuguese ending his St James's Park hoodoo.
Here's what our NUFC writer Liam Kennedy took from the game, as the Premier League season comes to an end with United on the decline...
The curious case of Fabian Schar
He's injured now - dislocated shoulder - so that might be the end of the Swiss at United?
He was better in the second 45 but it was coming from a very low base. He has been awful recently, looks totally uninterested.
A player of outstanding talent but with enough faults that you'd look to improve on him this summer, takeover or not.
Too late for Lazaro?
Why is that we have only really seen brief, very brief flashes of Valentino Lazaro.
Newcastle United have had nothing to play for, for quite some time now - but still we have not seen enough of the Inter Milan loan man to decide whether he's worth splashing out on?
Bruce clearly doesn't fancy him. And being brutally honest I could not say either way whether he's worth the cash or not. I do like the look of him though.
Nabil Bentaleb? Again it's a 'no thanks'
I've definitely seen enough of Bentaleb.
And it's a polite 'here's your plane ticket back to Gelsenkirchen.
Absolutely no better than anything else already at the club - and a whole lot more expensive!
Can we end this Krafth werk now, please?
Another player I just do not think is good enough.
We have tried him on the right of a four and the centre. The left, the right of a five and the centre.
And not once has ever looked a player worth persisting with.
Shocking for the second goal. He did know where he was meant to be when Harry Kane adjusted his run. That is the sign of a poor defender, not just a square peg in a round hole.
I'm actually not even sure what shape peg Krafth would be?
Matt Ritchie still wearing his shooting boots!
Right, so we know Ritchie is quality.
But we're now starting to see flashes of the old Matt Ritchie!
He's definitely got his shooting boots on. Having not scored for a long while, he's back among the goals - on a regular basis. Long may it continue.
If DeAndre Yedlin gets minutes, why not Matty Longstaff?
Yes he got four at the end, but it was more a token gesture after all the noise of this week.
Matty Longstaff may not have committed his signature to a new contract but you can't doubt his blood runs black and white. He should have been given more time on the park, not just last night, but the game before and the one before that.
Yedlin will leave the club this summer and got a start - why not the younger of the Longstaff brothers?
Influential Shelvey, even when the chips were down
This is what we want to see from the former England, Liverpool and Swansea midfielder!
Even when United are behind, Shelvey wanting the ball and influencing things all over the park - that's more like it.
Now for the consistency? Well, one step at a time.