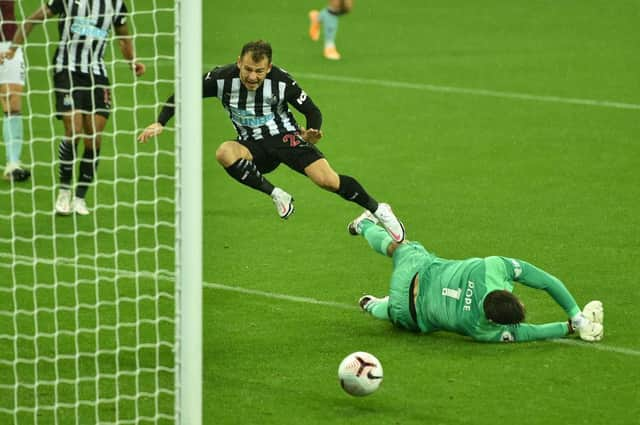 NEWCASTLE UPON TYNE, ENGLAND - OCTOBER 03: Nick Pope of Burnley fouls Ryan Fraser of Newcastle United leading to Newcastle United being awarded a penalty during the Premier League match between Newcastle United and Burnley at St. James Park on October 03, 2020 in Newcastle upon Tyne, England.
Five senior deals done - and a host of u23 signings including Peruvian non-trumpeting (I think) No10 Rodrigo Vilca - and yet there is an undercurrent, a feeling that United could, and should have done more.
This feeling isn't borne of anger towards Mike Ashley this time, or Steve Bruce - not this week anyway - or the club's often inexplicable scouting system.
Most fans feel Newcastle United, when they acted, did so positively.
Steve Bruce needed a striker - just as much as Rafa Benitez did before him - and the club, this time, went and bought one, a proven Premier League scoring one.
The club needed a left back, another problem position for some time. So what did they do? They went and bought one, one who has played in the Premier League, an international, who'd been eyed by Liverpool.
Recruitment elsewhere was low key in terms of cash spent - they were all free transfers - but the quality cannot be argued.
Ryan Fraser and Jeff Hendrick were probably, in Newcastle's marketplace at least, the two most attractive free transfers available in the Premier League. And in terms of contracts, United did not shirk on splashing the cash.
The other deal - Mark Gillespie - also has merit. With Martin Dubravka out, Karl Darlow was a shoe-in to be keeper without fail. Former Motherwell man Gillespie, despite his Newport error, has pushed him every step of the way.
Gillespie has kept Darlow, the Premier League's busiest and most in-form keeper, so honest some are even calling for a place in the England squad. This is, of course, silly talk and the kind of conversations that get Geordies ridiculed.
Similarly Jonjo Shelvey never merited a place in a World Cup squad, nor did Jamaal Lascelles previous to that. The same applies to Isaac Hayden now. We can't simply confuse his importance in this team, effort and tackling, for an ability that would transform an England team, arguably one of the top three international sides on the planet. None will get a look in with Gareth Southgate. And all, unfortunately, justifiably so. This isn't about Southgate 'not picking Newcastle players' either.
I digress, the questions on everyone's lips are not themed by what United DID this summer, they are shaped by with what they DIDN'T.
Yes they signed Wilson, but why not another striker to support him, or back him up in times of injury?
United did sign Hendrick, but is that deal alone enough to transform an often stale, static and immobile central midfield department? An injection of dynamism was rarely, if ever, considered by the club's hierarchy.
Letting Florian Lejeune go with no replacement - especially with Paul Dummett and Ciaran Clark's fitness becoming ever less reliable - could also be seen as a mistake.
Let's not forget, the club thought they had Rob Holding when Lejeune exited stage door Alaves, so why not follow up interest in others in that role?
But for all the perceived misgivings of the summer window, for the first time in what feels like ages, Newcastle United have done exactly what they should always do - sign players they need, and ones suited to the league, tried and tested.
That shouldn't be something we feel the need to champion - it's the bare minimum right?
And here we are, celebrating it. Celebrating Newcastle United doing what most other clubs do twice a year - you know, when the winter and the summer window take place.
This IS success for Ashley's Newcastle United.
Common sense signings, a (mostly) common sense approach.
It's not rocket science, but it's a big change from the norm of the last 13 years.
Newcastle United were a Ruben Loftus-Cheek move on deadline day away from changing the perceptions of many, winning a whole lot more over. That quickly, on a whim.
It didn't happen, of course, and United are a little short. But don't be fooled into thinking a lack of drama and late night scrambling as deadline nears takes away from the deals done this summer.
When United needed players - the week before the Premier League season - action was taken. Swift, decisive, meaningful action.
And long may that approach continue.
I wanted more, we always want more, so too did boss Bruce. But when assessing the window that was, against what went before it, this one can be deemed a muted success, although it had little to beat.