Newcastle United are 'lambs to the slaughter' and Steve Bruce is 'out his depth' – fans react to Magpies' Chelsea loss
Newcastle United were light years away from Chelsea from minute one to 90 at St James's Park – and it's fair to say the Magpies' faithful are far from happy with what they've seen from their players.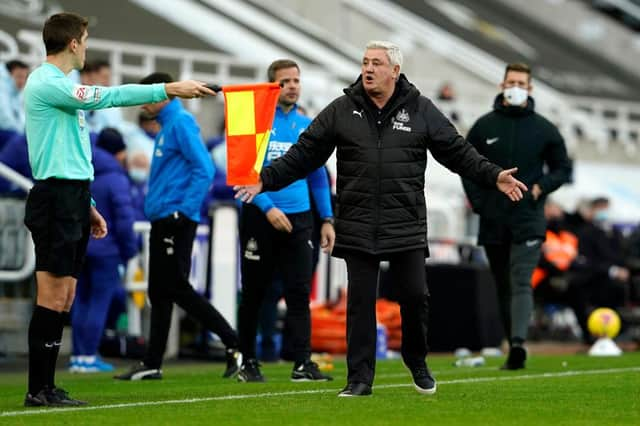 NEWCASTLE UPON TYNE, ENGLAND - NOVEMBER 21: Steve Bruce, Manager of Newcastle United reacts during the Premier League match between Newcastle United and Chelsea at St. James Park on November 21, 2020 in Newcastle upon Tyne, England. Sporting stadiums around the UK remain under strict restrictions due to the Coronavirus Pandemic as Government social distancing laws prohibit fans inside venues resulting in games being played behind closed doors. (Photo by Owen Humphreys - Pool/Getty Images)
Here's how Twitter reacted to the 2-0 loss, Steve Bruce's tactics and more...
@Jordan_Riches – "So Villa away next: We've just had 2 shockers and looked dismal against Southampton and Chelsea. The players look dejected and sick of the manager, the style of play is rotten, and we can barely string 2 passes together. How do you motivate this team?"
@agbnufc_ – "Another thing - There is a massive difference between defensive football with a counter attack plan (Rafa Benitez) and defensive football because you literally have no idea how to set up your attack (Steve Bruce). It is not the same football, not even close."
@RiIrving – "The #NUFC narrative relating back to the entertainers years needs to change. We fans do not expect that. All we want, all we're desperate to see is SOME attacking ideas. That's all. Not champions league, not entertainers, just some shots. Please."
@PaulKershaw79 – "That was truly awful to watch, no plan, just lambs to the slaughter, Bruce is clearly out his depth and needs to go."
@richardostell – "Tweet and repeat. Inept once more from #NUFC. Not one finger laid on Chelsea this afternoon."
@David_H_UK – "I think our main problem is. Bruce actually thinks he's doing a good job."
@JamCam80s – "The more I hear the excuses the more I want him out!"