Newcastle United defender lashes out at 'schoolboy' errors in defeat to Leeds United
Ciaran Clark bemoaned the "schoolboy" errors which cost Newcastle United at Elland Road.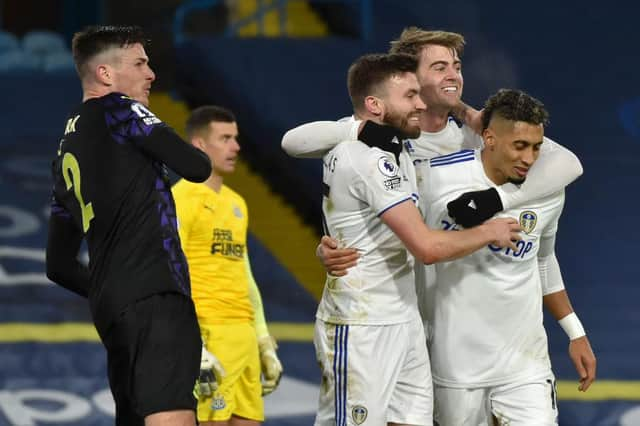 Ciaran Clark reacts as Stuart Dallas celebrates his goal.
And the defender – who equalised in the 65th minute with a header – told of his "frustration" at the mistakes which saw Marcelo Bielsa's team rip through Newcastle.
"We're really frustrated after that," said Clark. "We did well to get back into the game. Three sloppy mistakes in the last 12 or 13 minutes has cost us.
"It's about being switched on – and we switched off. It's embarrassing, really, when you look back at it. Someone needs to make a foul for the team. For it to happen a second time a minute later, there are no words for it, really."
Newcastle took the lead through a first-half strike from Jeff Hendrick, but Patrick Bamford levelled before the break. Clark cancelled out a Rodrigo header, but the game went away from the visitors in the last 13 minutes.
"We wanted to frustrate them," Clark told Amazon Prime. "We did that. The last 12 or 13 minutes were really frustrating."
Asked if fatigue had played a part following the Covid-19 outbreak at Newcastle, Clark said: "I don't think so, not with the way the goals went in. It was almost schoolboy, really.
"For it to happen once, and then a second time a minute later, there are no words for it. We'll work on where we went wrong."